Chung Aims to Teach
08/03/2022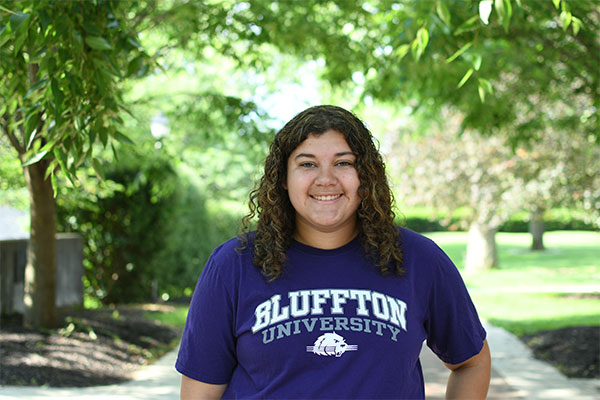 Alexa Chung aims to be a teacher
Inspired by her mom (an educator) and influential teachers from her middle school years, Alexa Chung '25, a Delphos, Ohio, native, is heading toward her own future in the classroom as a middle childhood education major at Bluffton University.
"It's so important to have teachers you can rely on," said Chung.
Heading into her sophomore year, Chung is gaining as much practice in the classroom as possible. During the spring 2022 semester, she served as a substitute teacher at Elida Elementary School on days she didn't have class. This summer, she is leading summer camp activities for two- and three-year-old kids at Languages and Tutoring Academy in Lima, Ohio.
"It's a really good experience to have early in my career because I'm in the classroom teaching and learning classroom management skills," said Chung while acknowledging the age difference between the toddlers and the students she'll be teaching in the future. "You have to be careful how you approach each one of them because they each respond differently. I'm going to experience that even teaching fourth through ninth graders."
With themes ranging from Legos Week to Shark Week, the experience also allows her to appreciate the individuality of each student no matter their age.
"They are so little, but they have big personalities," said Chung. "It's so interesting to see them grow in their intelligence but also as people who are learning how to collaborate and work with other kids."
At Bluffton, Chung appreciates the guidance she receives from her advisor, Dr. Gayle Trollinger, professor of education. She's chosen social studies and mathematics as her teaching concentrations.
"I love math because there may be many ways to get to an answer, but there is just one determined answer," explained Chung. "And I chose social studies because the past makes us who we are today."
Outside of class, Chung is highly involved in campus. She's a President's Ambassador and Becoming a Scholar mentor. She also attends Delight Ministries and Bluffton Education Organization (BEO) meetings and works as a gameday stats assistant. Despite an initial hesitation, Chung followed her older brother to Bluffton and found a community of her own.
"With me being younger, I was not going to follow in his footsteps. I wanted to make my own path," said Chung. "But I stepped foot on campus, and I knew this was it. This was where I was meant to be."