Professional experience
07/28/2022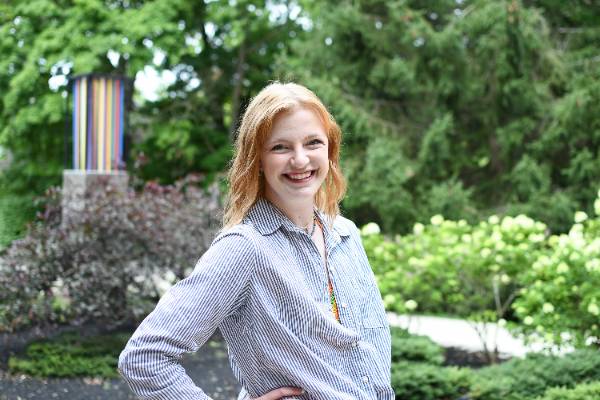 Bluffton's Genoa Arling gains professional experience in social work
Genoa Arling '23, a social work and psychology student at Bluffton University, says it's a cliché answer, but she chose her majors because "I just want to help people."
The Minster, Ohio, native is gaining experience for her future as a counselor at Camp Robin Rogers in Spencerville, Ohio, and as a unit clerk/recreation therapist in the psychiatric ward of Joint Township District Memorial Hospital in St. Marys, Ohio.
At the hospital, she works alongside a social worker and is using the skills she learned in Bluffton's classes while running and planning therapeutic group activities. However, she found her true calling at the camp for developmentally disabled children and their siblings.
"After working at Camp Robin Rogers, I decided I wanted to work with people with disabilities," said Arling. "I loved making connections with all of the campers."
A typical day at camp included crafts, swimming and educational lessons on topics from sun safety to stranger danger. During the camp sessions, she improved her professional and personal skills including crisis intervention and communication.
Graduating in just three years, Arling will complete her required field experience for social work at the Allen County Board of Developmental Disabilities during the fall 2022 and spring 2023 semesters.
"They have so many opportunities—they have a school, social workers and behavioral support specialists," said Arling. "I'm looking forward to seeing some familiar faces from camp who work at the board and getting to know them better. I'm also hoping to see some of the campers, fingers crossed."
Arling became familiar with the field after attending therapy and learning her therapist was a social worker. After job shadowing a few times, she was convinced.
"It just felt right, and it's such a broad field," said Arling. "There are so many areas you can pursue."
Back on campus, Arling will serve as president of Bluffton's social work club.
"You get to work with others in your major and plan events," said Arling. "I was a committee member for Take Back the Night, and it was one of those events where you could just see you were making a difference."
She also sings in University Chorale and Camerata Singers, is a member of Peace Club, serves as a ministry assistant and works in the campus bookstore. Interested in attending a small school, Arling came to Bluffton because she "loved the felling of community."
Entering her final year, she's excited because "the more experience I get, the more ready I am to go out into the field and do this (social work) long term."