Heiing Finds A Fit
07/21/2022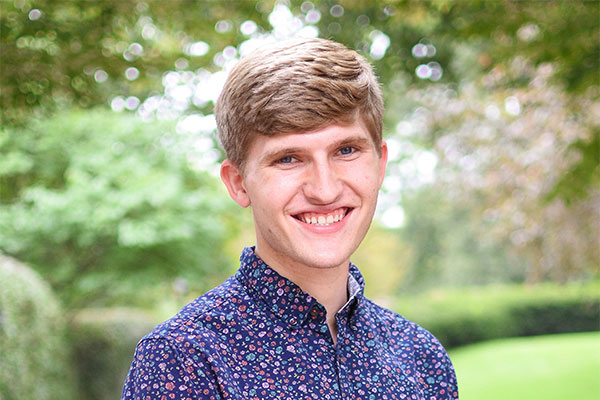 After major changes, Bluffton's Noah Heiing finds a fit
Noah Heiing '24, a communication and media major from Delphos, Ohio, wants high school students to understand it's okay if they don't have life figured out at 18.
"I feel like people put so much pressure on you in high school. 'What are you going to do? Where are you going to school?' Being undecided about your future is not something you should be scared about at all," explained Heiing, a President's Ambassador at Bluffton University who routinely gives tours to prospective students and their families. "I encourage students to come in undecided so they can take different classes and try out new things."
Heiing wasn't always receptive to the advice he now shares. As a first-year student, he felt compelled to declare a major and chose education. However, after completing a field experience in his first semester he realized "this is not for me."
Heiing briefly tried out social work as well but has now found his footing in communication and media and is gaining experience in his new major as a student worker in Bluffton's public relations office.
Over the summer, he's worked on a variety of projects from updating the website to sending out news releases, but what he's enjoyed most is creating content for the university's social media accounts.
"I make TikToks and post on social media," said Heiing. "Social media is a big thing in students' lives so it's fun to make posts that I think other students might like, and I'm really enjoying what I'm doing."
While he initially chose Bluffton because of its proximity to his hometown and campus beauty, he now stays for the people.
"Everyone here is really friendly," said Heiing. "People always stop and say 'hi' to you."
One of those friendly people is Marathana Prothro, assistant professor of communication, who also served as Heiing's Becoming a Scholar professor. Heiing was part of a pilot for Becoming a Scholar's "Design Your Life" curriculum which is now standard for all first-year students.
"We were kind of like guinea pigs for Design Your Life," explained Heiing. "That class is super helpful in figuring out what you want to do with your life. The class teaches you tools to develop back-up plans if your first plan doesn't work out. It really expanded my mind."
While he's not quite sure what he wants to do after college, Heiing is excited to continue exploring his major and isn't concerned about having everything figured out because "Everybody at Bluffton is here to support you!"