Lauran Brown '18
06/27/2017
major says Bluffton plays a huge part of her accomplishments
Lauran Brown '18 of Norwalk, Ohio, admits she wasn't the best student in high school. "I did my school work, but I didn't really care as much as I should have," said Brown.
However, her attitude changed when she became an accounting major at Bluffton University. Brown recently earned both the Certified Management Accountant Scholarship and the Roger CPA Review scholarship. The scholarships help current accounting students from across the country get the materials and software to prepare for the examinations needed to become certified as both a managerial accountant and a public accountant.
I am blown away by it all. Never in a billion years did I think I would win either of these scholarships. Winning these has left me feeling very blessed," said Brown. "These are really important certifications for an accountant to have, and they're not easy to achieve."
Brown credits the dedication of Bluffton's accounting and business professors and Jacqui Slinger, director of academic development services, for devoting their time to ensuring she and her classmates succeed.
"No matter who the professor is or what you're having trouble with, they'll do whatever they can to help you," said Brown.
A meeting with Jason Swartzlander, associate professor of accounting, actually brought Brown to Bluffton.
"I sat down with Jason Swartzlander and I talked with him, and in talking with him I just knew Bluffton was where I was meant to be," Brown explained. "It was just one of those feelings you have when you know you made the right decision."
Now, she's using the skills gained at Bluffton during her internship this summer at Brown, Crane and Associates, an accounting, payroll and tax firm co-owned by her mother. Brown started out as an assistant, but was offered the opportunity to take on extra responsibilities including working on payroll accounts.
"All of the accounting courses offered at Bluffton has been very beneficial to my recent success," said Brown. "Because of these courses, I am better prepared in taking on the challenges of this internship and future endeavors."
After completing her senior year of college, Brown plans to continue working her way up at the family business.
"One benefit I get from my internship with my mom is that I really get to see how a business works. I get to see the good and the bad. My dream is to one day either take over the business or co-own the business with my mom, and getting to see how the business is really run and operated is something I have been lucky to witness."
-B-
-Jena O'Brien, public relations student assistant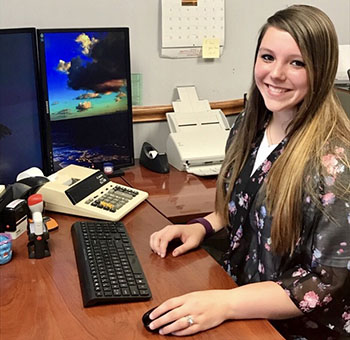 ---
"All of the accounting courses have helped me. Because of these classes, I know the skills I need to use for the job, and they didn't have to take the time to show me how to do them."