Henry Internship
06/22/2022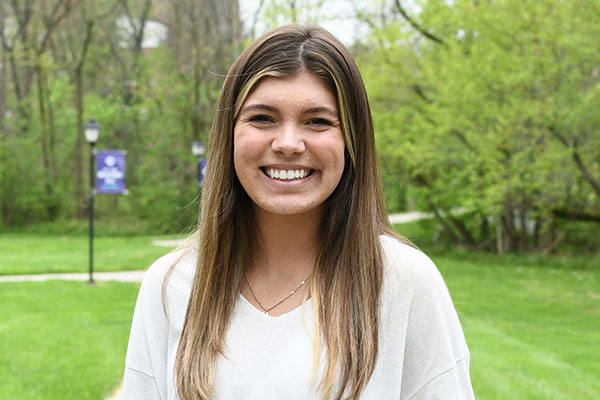 Henry learns through internship
Peyton Henry '23, a marketing and business administration double major from Leipsic, Ohio, is truly learning through experience this summer as a paid human resources intern at Wannemacher Total Logistics. The same week Henry started her supervisor left to pursue a new opportunity. So, Henry got to work.
"I was doing everything from scheduling interviews to interviewing people to providing orientation to new employees. I learned a lot in the first week and a half," said Henry, who is now working with her new manager on updating the company's HR processes.
While stressful, she is thankful for her supportive coworkers and is ultimately "glad I got that experience."
Henry, who initially came in as a marketing major, got the experience thanks to two Bluffton University professors.
Realizing there was extra room in her schedule, Gary Schiefer, associate professor of business, encouraged Henry to add the business administration major while Dr. Jason Swartzlander, professor of accounting, encouraged her to pursue the opportunity at Wannemacher.
"I never really thought about pursuing a career in HR until taking a human resource management class this past spring," said Henry, who will continue the internship through the fall 2022 semester. "With my internship and education, my opportunities and knowledge are continuing to grow vastly in HR, but I am also learning different aspects of a business through my internship that you will not find in a textbook."
Starting in high school, Henry gained marketing experience as an employee at Signature Look Boutique in Ottawa.
"I was there with them when they first opened their doors and have watched them grow. I was able to watch them get a website and even their own app," said Henry. "That's when I started thinking that I would like to help smaller companies become something larger. So, I chose marketing. It's a field with lots of opportunities."
She then expanded her resume as student assistant in Bluffton's public relations office.
"I think it was awesome to learn the backside of a website and photoshop," said Henry. "I loved it."
Outside of class and work, Henry is a member of Bluffton's women's basketball team and is preparing for her senior season.
"My first two years were a little rough. Especially my sophomore year due to all the COVID protocols/rules. We played the same team eight times; it didn't feel like a regular season," explained Henry. "But this year, I earned the opportunity to have more minutes and had a good run so overall it was a good year. It's a blessing to be able to get an education and continue playing the game I love. All the memories and bonds made through basketball will be with me for the rest of my life."
While she isn't following in her parents' footsteps professionally— both are educators—Henry did choose their alma mater.
"They always talk about how they love Bluffton, and I wanted to stay close to home," said Henry on her college choice. "I love the small college atmosphere and don't feel just as a number or statistic like some bigger universities. When my professors knew my name in the first two week of classes, I knew this was the right place for me."