Support for med school
05/09/2023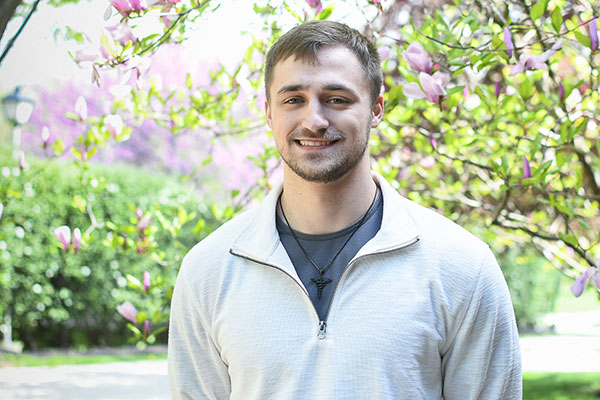 Dr. John Kraft Award recipient
Caleb Bell, a pre-medicine and biology double major from Logan, Ohio, has a passion for helping people and the drive to succeed. So, it's no surprise the 2023 Bluffton University graduate is headed to medical school.
Bell will continue a family legacy in health care when he begins classes in August at Ohio University's Heritage College of Osteopathic Medicine.
"I've always known I wanted to go into health care," said Bell. "Being a doctor will provide me a challenge. It's something different every day that will allow me to continue making a difference."
Bell is the latest recipient of the Dr. John Kraft Award at Bluffton. Each year, the $5,000 loan/grant supports a student who enrolls in medical school with the loan being canceled upon completion of the first year of medical school.
He chose Bluffton because of its small class sizes and the community atmosphere.
"I liked the interactions I had with the professors," said Bell. "It's easy to talk with the faculty here. If I didn't understand something, I felt comfortable asking about it."
He especially enjoyed Dr. Angela Montel's immunology class and appreciated the overall difficulty of Bluffton's science classes.
"I feel like the rigor of the coursework, specifically the biology classes, and the pace has prepared me for medical school," explained Bell. "We went through a lot."
To gain additional experience in the health care, he shadowed several doctors including primary care physicians, an orthopedic surgeon and a pain management doctor. Bell also participated in a summer research opportunity at Mercy Health St. Rita's Medical Center and took classes to become an EMT.
"It was fun. I gained a lot of hands-on experience," said Bell. "I got certified in CPR and bleeding control and went on some runs and rotations in the ER. It definitely exposed me to a lot of different situations including interacting with patients."
Outside of class, he was a member of C. Henry Scholars, served as a Learning Resource Center tutor and attended Science Club events. Bell, along with his twin brother Coby, initially played basketball for the Beavers, but Caleb chose to focus on his academics starting in his junior year.