Nonprofit field
04/28/2023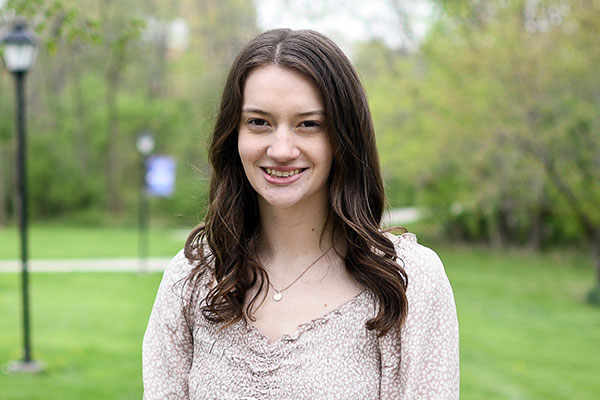 Exploring options through internships
Sarah Woods '23, a business administration and sociology double major from Lima, Ohio, came to Bluffton University to pursue a business degree, but she was unsure of what direction it would lead her. However, after adding a major and completing four internships, she now is focused on her concentration in nonprofit management.
After an initial internship at Sanoh America working in the general affairs department, Woods realized her aspirations were leading her elsewhere.
So, she started taking additional classes with a focus on helping people including social work classes. This new interest led her to an internship with Andrew's House of Hope, a women's recovery home, in Elida, Ohio, where she volunteered on nights and weekends. Woods' third internship took her to First National Bank in Pandora, Ohio, where she worked in customer service and visited different banks to learn more about finance. Finally, she completed a social media and marketing internship at Crime Victim Services in Lima where she learned to make digital and print marketing campaigns.
"I knew I wasn't very interested in social media marketing, but I really liked Crime Victim Services and everything the organization does," said Woods.
Getting a feel for nonprofit work, Woods realized she really enjoyed the atmosphere, and she finally felt the fulfillment she was searching for in a career.
"I came to realize, I have a deeper understanding of the people in the world around me," said Woods. "I want to have a job where I am benefiting others rather than working nine to five not feeling fulfilled."
After graduation, Woods will be joining the team at Crime Victim Services as a relationship violence survivor advocate. In this role, she will help domestic violence victims who are who are going through court proceedings.
"I hope to get a feel more for the nonprofit field," said Woods. "I want to really learn my strengths as an individual and how I can grow. There are a lot of opportunities for growth, so it'll be a big learning curve, but I'm excited to use what I have learned at Bluffton."
Woods followed in her family's footsteps in choosing Bluffton. Both of her parents as well as an aunt and an uncle are alumni.
"I had a familiarity with Bluffton, and I really appreciate Bluffton's values and peace traditions," said Woods.
Her parents are 1994 graduates Brian and Julie (Shively) Woods.
---
Courses required in Bluffton's business administration major will help you develop core skills across a wide variety of business subjects with concentrations based on your interests and career plans.