Ethan Zaerr '20
04/10/2019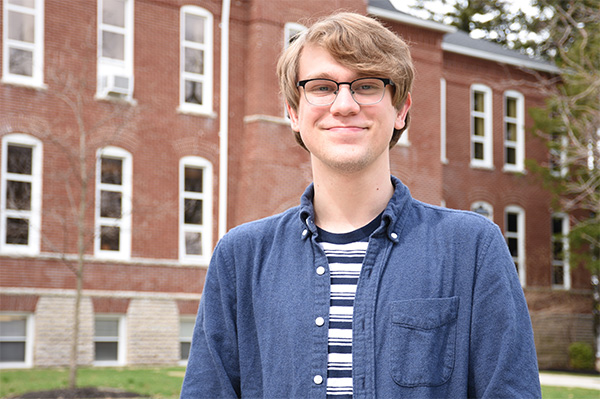 Bluffton double major looks to give back through education
Ethan Zaerr '20, a chemistry and physics double major with a minor in education, is taking a unique approach to pursue his career ambitions in the fields of science and education. Because of the support from his professors at Bluffton, Zaerr hopes to pass on the support and inspire passion in his own students.
"I want to be able to help the students who don't think they have a reason to show up to school find a reason," said Zaerr from Archbold, Ohio. "Maybe that's naive of me, but I hope I will be able to put myself in a position where I can help students become the best versions of themselves."
Although Bluffton doesn't offer a direct licensure to become a science teacher, Zaerr is instead taking part in Ohio's alternative licensure program that allows him to major in his field, become endorsed by the university and continue on to earn his master's degree while pursuing a teaching career. Bluffton is one of just five colleges and universities in Ohio offering an alternative licensure program. Working adults who have felt the call to become a teacher later in life can also take advantage of the pathway to teaching.
"I've been really supported at Bluffton, considering that there's not really a chemistry and physics education licensure here," he said. "Bluffton has worked with me to ensure that I will be prepared to find a job after I graduate."
Coming from a Mennonite background, Zaerr was familiar with Bluffton even before he thought about attending college. "Faculty and staff would come to our church and visit, so having known them and knowing that Bluffton is a Mennonite university was a large component of why I came here," he said. "I really liked the campus, and I thought the education department was really strong."
Bluffton has also offered plenty of opportunities for community and growth, both with fellow students and faculty members. "The professors here have always been an instant connection," he said. "I felt more often like a peer with the professors here than a student."
One of those professors is Dr. Gayle Trollinger, chair of the education department.
"She is just commanding but empathetic at the same time," he said. "She's just one of those people that if I can do just half of what she's done, then I can be satisfied with my life."
Zaerr received similar support in high school through his chemistry professor, who also is a Bluffton graduate. Sarah (Betts '06) VonSeggern, was a driving factor in his decision to pursue the field of science. "She had a great classroom," he said. "She was very motivational and my love of chemistry definitely started there."
While Zaerr is majoring in the sciences, he has enjoyed the small-campus atmosphere where he can engage with peers and opportunities outside of his major.
"I definitely think that high school me would not recognize current me," he said. "I've grown so much, and I know that sounds cheesy, but I'm thankful for the fact that Bluffton has connected me with people who have different life stories. Bluffton's campus atmosphere also allows for spaces to be created where we can communicate those stories and become better people because of that."
-B-
Cara Echols '19, Student News Writer