The Big Reveal
03/03/2021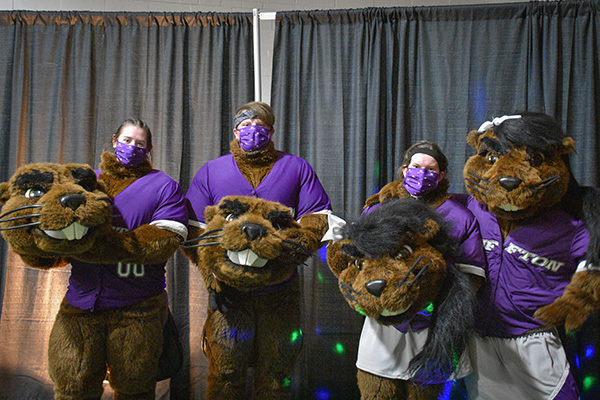 Meyer, Mladek and Westcott revealed as Bluffton's Beaver mascots
Perhaps one of the most tightly guarded secrets at Bluffton University is the identities of J. Denny and Jenny Beaver. Even the closest of friends, roommates and family members of the students who portray Bluffton's mascots may have no idea who is actually in the suit. However, another generation of Beavers concluded their mascot mission during Bluffton's annual Lip Sync Battle and are prepared to tuck away their tails for the next group of eager Beavers. But first, let's learn about the newly identified Beavers.
Clay Meyer '23, a music education major from Kalida, Ohio, chose to suit up as J. Denny Beaver this year to foster community on campus.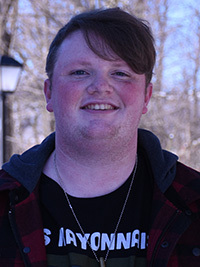 "I love supporting the community aspect of Bluffton University," said Meyer. "I feel that being J. Denny supports university events and adds school spirit for all attendees."
Meyer was the featured J. Denny during Jumbo Game Night hosted by Marbeck Center Board (MCB), at the fall softball game and during the making of gifs for the university. He particularly enjoyed passing out treats before winter break to spread holiday spirit.
"My favorite part of being J. Denny was how respected the secrecy of the identities of J. Denny and Jenny are," said Meyer.
Along with being J. Denny Beaver, Meyer is part of Concert Band, Camerata Singers, University Chorale and Brass Ensemble. He is also the assistant pep band director and an assistant in the music department.
Cassie Mladek '21, an elementary education major from Coshocton, Ohio, was also intrigued by the secrecy of being J. Denny Beaver.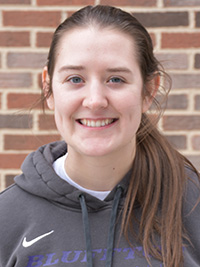 "My favorite part was hearing people talk about the Beavers. It was heartwarming to know students and faculty really cared to know who we were," said Mladek. "It was fun hearing people get accused of being a Beaver and playing along with their stories."
Mladek auditioned to be a Beaver to be more involved on campus. "I loved the idea of being part of Bluffton history and being part of a family of Beavers past, present and future."
Memorable events as J. Denny for Mladek included shooting the Bluffton Christmas video, pumpkin painting with MCB and playing intramural corn hole.
Mladek plans to graduate a semester early in December 2021 and plays volleyball for the Beavers. She is a member of MCB, National Student Speech Language Hearing Association (NSSLHA), C. Henry Smith Scholars and Student Athletic Advisory Committee (SAAC). Mladek is also a Marbeck front desk manager, student ambassador and Bluffton Education Organization (BEO) public relations officer.
Olivia "Lou" Westcott '23, a convergent media major from Toledo, Ohio, had mascot experience before taking on the role of Jenny Beaver. She previously served as the panther mascot for Whitmer High School. "I really enjoyed that so I figured I would be the mascot here as well," explained Westcott. "I wanted to put myself out there and be more involved."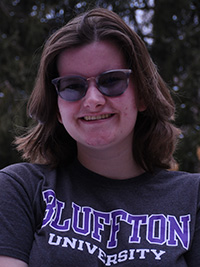 Westcott enjoyed playing Jenny during MCB's game night and 70s night along with suiting up for the Christmas video.
"My favorite memory is just interacting with the students and staff and them not knowing it was me. Some students would have full on conversations with me as Jenny, and it was fun using just my hands and motions to communicate back," she explained. "I loved getting pictures and brightening people's days."
Along with being a Beaver, Westcott works in the technology center and as the communication department assistant. She is also a convergent journalist for The Witmarsum, a student ambassador and plays in the concert and pep bands.
A second Jenny Beaver chose not be revealed during the Lip Sync Battle and plans to return to mascot duties for another year. In the past 11 years, just 39 students have been selected to fill the roles of J. Denny and Jenny Beaver. Students who would like to audition are encouraged to apply by Sunday, March 7.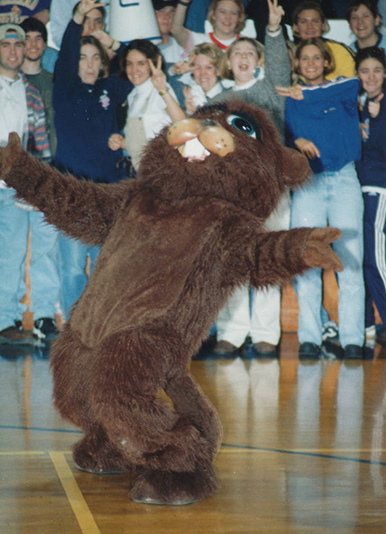 ---
Beavers are small, tireless, resourceful, accomplish more with less... and so much more.