Relating to others
02/26/2020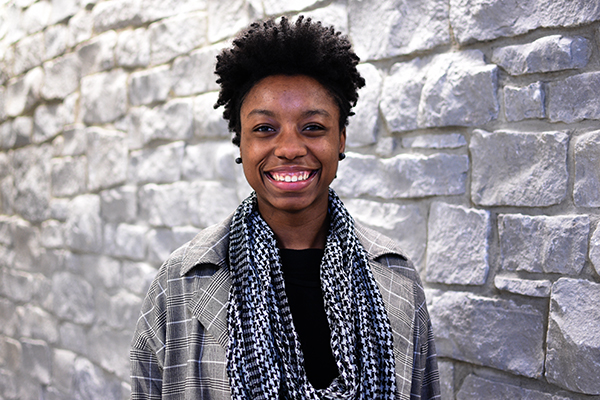 Bluffton student uses multitude of experiences to relate to others
Leslie Beasley '20 is putting her last three and a half years of Bluffton education into practice through her student teaching experience at Lima North Middle School.
While Beasley believes nothing can "truly prepare" you for the transition into an actual classroom, there are lessons from Tim Byers, assistant professor of education, that stick out to her.
"There are numerous times when I hear Mr. Byers's voice in the back of my head about how to approach certain situations," Beasley said. "His teaching has helped me with real-life application."
Beasley said the collaboration between students in the education department has also been very helpful.
"We go through all of the ups and downs of being future first year teachers together," Beasley said. "If I need to rant, I know I can find someone to talk to. We bounce ideas off of each other. We keep each other afloat."
The Multicultural Student Organization, being a C. Henry Smith Scholar and serving on the residence life staff have also helped Beasley excel at Bluffton, allowing her to recognize that her strengths lie in more than one area.
"Beyond helping me learn about myself, these groups have also introduced me to different people," Beasley said. "Their stories and our interactions have made me more aware of the strength of others, which impacts me as a teacher. I am reminded that my students are greater than their behaviors and what we see on the outside."
It was through extracurricular activities that Beasley met her biggest mentor here, Tyson Goings, director of residence life.
"He is honest with me and always pushes me to do more than I think I can handle. He will call me out when I am wrong or not living up to my fullest potential," Beasley said. "God placed me in the position to work with him that goes deeper than a job. He has positively impacted who I am as a person."
Initially drawn to Bluffton because of the family atmosphere, Beasley said she still enjoys the small campus environment.
"I am a person, not a number," Beasley said. "I have a purpose that is being developed at Bluffton through various experiences and interactions."
Beasley said her biggest takeaway from her time at Bluffton is the importance of building relationships.
"I have met so many people that are different from me. I have had conversations and experiences that I would have never imagined having, and I've loved it all," Beasley said. "A simple, 'hello' and a smile, can take you a long way."
After graduating, Beasley would like to work with middle school or high school students, with the eventual goal of working with college students in a learning resource center.
"Ultimately, I am putting my plans in God's hands because He knows where I need to be after this, so I am trusting Him to guide me to my next step," Beasley said.
Leslie returned to Bluffton University in fall 2021 to serve as a graduate assistant in Multicultural Affairs.