Casey Clark '19
02/18/2019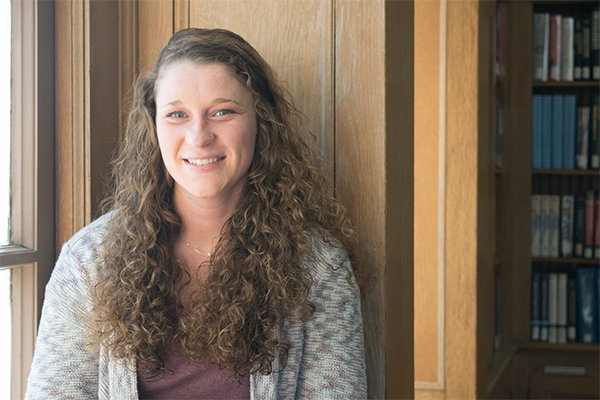 Senior paying it forward through future vocation
Casey Clark '19, a biology major from Lima, Ohio, will further her interest in orthopedics following graduation. The senior was recently accepted into Marietta College's physician's assistant program. The two-year graduate program will allow the volleyball and softball standout to help young athletes.
"I've had many injuries with sports and have had numerous physician's assistants help me with my recoveries," said Clark. "They all had such a significant impact on getting me back out there. I wanted to pay it forward."
Clark transferred to Bluffton at the beginning of her sophomore year, following in the footsteps of her older brother.
"My brother went here and he loved it, so I was like well I'm sure I will too, and I found a home at Bluffton," she said.
Professors like Dr. Angela Montel, professor of biology, were instrumental to Clark during her transition to Bluffton.
"Dr. Montel has been a huge help for me. I know I can go and talk with her about anything," said Clark. "For a while, especially right after I transferred, she really got me on track. She was a big help."
Montel encouraged Clark to pursue a career in medicine. She chose Marietta's program because the program felt like the right next step.
"Their interview just seemed different than anyone else's," she stated. "I think that was because they really portrayed their values and those values were very similar to mine. So it seemed like a good fit."
With more direction and a bright future ahead, Clark is still determining what might come after she finishes the two-year program.
"Right now, I'd love to go to medical school and finish that route, but if I'm happy being a PA then I can see myself being a PA," said Clark. "One thing I really want to do is surgery."
While her future still has a few variables, there are some patient populations Clark knows she wants to work with.
"I'd like to be able to help athletes and the elderly to make their lives a little bit better and easier on their bodies," said Clark.
She will begin Marietta's physician's assistant program in June, with clinical phases to take place in her second year.
-B-
Cara Echols '19, Student News Writer