Future in coaching
02/09/2023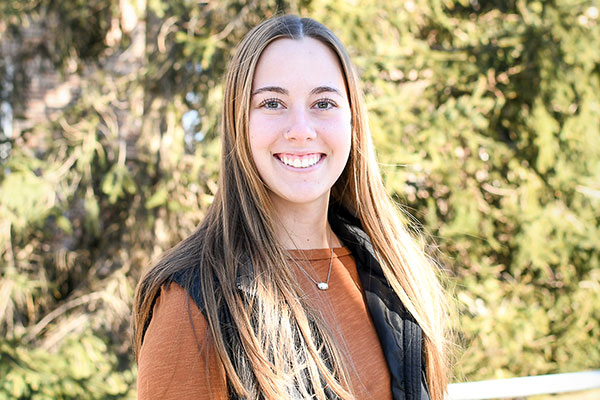 Pursues coaching through internship
After playing travel softball under the tutelage of her dad and coaching for two summers, Sammi Urban '23, a criminal justice major with a coaching minor, further developed her leadership skills through a coaching internship with the women's soccer team at Bluffton University.
"I played soccer in high school, so I always wanted to get back into it," said Urban, of Troy, Ohio. "I thought, 'why not do an internship' since I do want to coach later on in life."
Through the internship, Urban created game day itineraries for the team including bus schedules, locations to stop and places to eat.
"Supporting local businesses was something we were big on," said Urban. "We didn't want to do fast food every time we traveled so we would find local restaurants."
She mostly sat and observed in the beginning; however, Urban became more involved and eventually set up the field for warmups and practice. Sometimes she even participated in drills.
"Just having them observe what I was doing and having the players listen to me made me feel good about my future in coaching," said Urban, who added that she is grateful for committing herself to the experience.
"We would have our practices and sometimes there would be players who would say, 'hey, can you stay after and help with this or help me with that,'" said Urban. "To me that felt good because they were wanting to grow. They wanted to make to make a difference for the team and get better."
Something unexpected Urban learned during the internship was the amount of time each college coach invests in their program from scheduling, budgeting, and everything in between.
"I wanted to develop the mind of a college coach," said Urban, who plans to continue coaching following graduation. "They are so much busier than I had thought. Learning that, helped me gain even more respect for coaches."
Urban said the top characteristics she aspires to be in a future coach is to be stern but fun, demonstrate discipline but not be over the top, and most importantly, to be a good listener.
Urban, a utility player, will be competing in her last season of softball as a Beaver this semester. She chose Bluffton after falling in love with the campus.
"Bluffton was the only school I applied to," said Urban. "I was pretty much set on going here since junior year of high school."