Senior hits 1,000
02/05/2020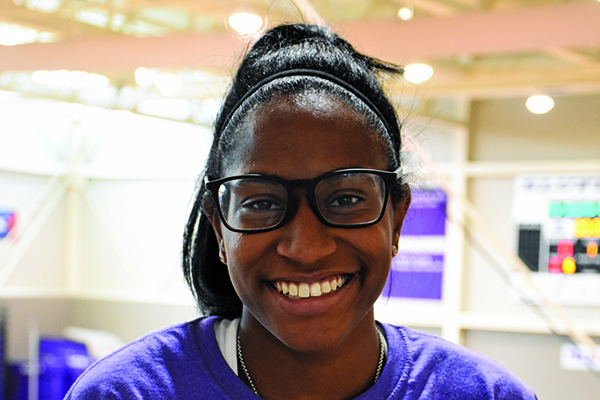 Bluffton University senior hits high point in final season
Coming into college, TJ Mills '20 had a goal for her basketball career: score 1,000 points. On Jan. 8, Mills accomplished that goal, swishing a 3-pointer to hit the mark.
"It's something that I've always wanted to do. I didn't get it in high school, so I knew going into college this would be a good opportunity for me to get it," Mills said. "It's been one of my goals since I started playing basketball, and I'm just glad I got it."
Mills also recorded her 200th career steal this season, setting the career record for steals at Bluffton. However, the personal accolades aren't what Mills will remember most about her time at Bluffton.
"The relationships and friendships I've build on the team have been the best part," Mills said. "I've met some people I don't think I would have ever met in my life otherwise. Also, being coached by some good coaches and being surrounded by good players."
Mills has immense pride for the growth both she and her team has shown.
"During my four years, I can see how much we've grown as a team. Seeing people progress and work hard has meant a lot to us," Mills said. "I can also see how much I've grown over the four years. I've put a lot of work into this since I was little, so each year I just try to get better at the things I'm not good at, and the things I am good at try to perfect."
While Mills chose Bluffton primarily because of basketball, she said Bluffton has been crucial in helping her shape what she wants to do with her future after basketball. She started as an exercise science major, but her new goal is to become a clinical psychologist.
"I realized that road wasn't what I was looking for, so I switched over to psychology and found that was more 'home' in terms of what I'm wanting to do," Mills said. "Bluffton's really given me an open mind, and everyone's willing to help, which is great."
Now a psychology major and exercise science minor, Mills appreciates how well she feels the classes have prepared her for a future in graduate school.
"I think one of the biggest strengths of the department is how knowledgeable the professors are and how in-depth they go," Mills said. "My advisor, Deanna Barthlow-Potkanowicz, brings a lot of strengths, as well. She gets involved in making sure you have all of the tools you need for your future and your success in the psychology field."
Mills has stayed involved on campus, serving as a resident advisor and president of the multicultural student organization, acting as a member of the task force health care committee and tutoring in the Learning Resource Center. Through these activities, Mills has formed valuable relationships.
"Tyson Goings (director of residence life) has been my biggest mentor here. He's been with me and looked out for me over the four years," Mills said. "He's always wanted to see the best in me – always pushed me. He's not even one of my coaches, but in academics and in athletics, he's been a number one supporter on campus, and I cannot thank him enough for that."