It can now be told
01/31/2023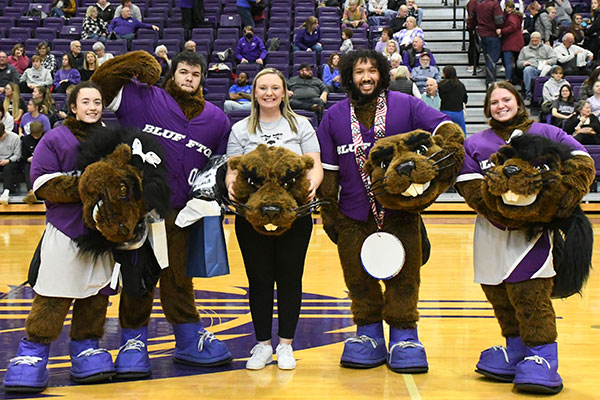 Getting out of their comfort zone
Perhaps one of the most tightly guarded secrets at Bluffton University are the identities of J. Denny and Jenny Beaver. Who were in the mascot suits in 2022-23? The Real J. Denny and Jenny were revealed Jan. 28, 2023, between the men's and women's home basketball games against Transylvania in Sommer Center.


Three-year Jenny Laura Irwin '23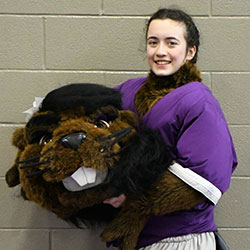 Wanting to try something new and adventurous, Laura Irwin '23, a music education major from Glenmont, Ohio, found herself suiting up as the Jenny Beaver mascot for more than the typical one year! She has kept her identity a secret for the past three years.
"It was an experience that spurred personal growth," said Irwin. "This experience took me out of my comfort zone by interacting with people I normally would not interact with, but I loved every minute of it."
Memorable turns as Jenny Beaver include, when she suited up for the COVID safety video during her sophomore year and mimicking children's dance moves during football games.
In addition to serving as a Beaver mascot, Irwin is part of choir, concert band, pep band and SERVE. She is also a pastoral assistant. After graduation, Irwin wants to enjoy more adventurous things such as working at a summer camp in Alaska.
"I loved having an incognito life and sharing the incognito life and secret with my siblings!" said Irwin.


Two-year J. Denny Anton Miller '24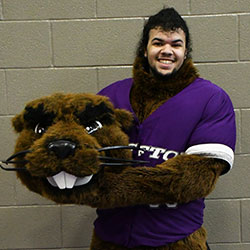 Another Bluffton student kept the secret from everyone for multiple years! Anton Miller '24, a history major seeking an Adolescent/Young Adult teaching licensure, served as a mascot for two years.
"My favorite part of being a Beaver for consecutive years was hearing my name be thrown around as a possible beaver, and then gradually hearing the suspicions dissipate," said Miller, from Springfield, Ohio. "I'm not generally someone who likes to lie and deceive others, but being able to keep a secret for two years straight may garner some serious street cred on campus."
Miller's favorite events as a Beaver were during Bluffton Discovery Days and game days in Sommer Center. They especially enjoyed meeting prospective students because they got to get creative and have fun.
When Miller wasn't deceiving people as J. Denny Beaver for the past two years, they were involved in MAC and PEACE club. They are also student engagement assistant and ministry assistant.
"I had a lot of fun, and I wish I had taken on more events, but then again, how could I have with so many other people also eager to work in the suit!" said Miller.


Darius Boeke '23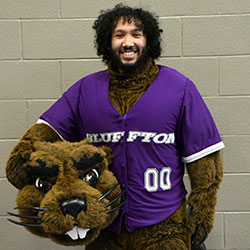 Darius Boeke '23, a mathematics education major, once dreamed of being Brutus Buckeye, but saw being a Bluffton Beaver mascot as a prime opportunity to fulfill the fun and excitement he previously envisioned.
"I decided to audition because I always saw myself as a big supporter and fan of our athletics program," said Boeke, of Sidney, Ohio. "It just felt natural to me being in the suit and being my upbeat, cheerful self."
Boeke's most memorable appearances as J. Denny included Freshman Olympics and Flag City Olympics because he had so much freedom to interact with people.
"I would say my experience was very enjoyable," said Boeke. "I wish I could have done it another year and hid my identity longer because lots of people have guessed that I'm the Beaver, but people thinking it was me has also given me more excitement during my days in the suit."


Ashley Eachus '23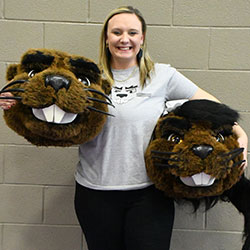 Born and raised in Bluffton, Ohio, Ashley Eachus, a middle childhood education major, decided to audition to be in the Beaver suit because she knew no one would have guessed it was her.
"I decided to audition because it was totally out of my comfort zone," said Eachus. "I would describe my experience as fun, secretive and worth doing again."
Eachus' most memorable events in the J. Denny or Jenny suits were the Blaze of Lights, Homecoming and Oktoberfest. Outside of being a mascot, she is involved in campus ministries as a pastoral assistant and is a member of the Spiritual Life Week committee.
"My favorite part about being a Beaver was being able to be both J. Denny and Jenny," said Eachus. "Their personalities are totally different, and I enjoyed exploring both in my own way."


Madison Staton '23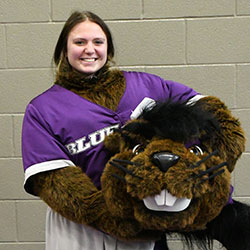 For Madison Staton '23, an intervention specialist major from Marion, Ohio, it was hard to keep the secret alive. Many initially suspected Staton of being in the Beaver suit; however, she managed to keep everyone surprised.
"My experience has been like a roller coaster," said Staton. "When I took over last spring, no one had any idea who I was, and I laid pretty low. Then at Dam Jam, people started guessing my identity so I had to pretend it wasn't me and lay really low the rest of the semester."
You may have seen Staton as Jenny Beaver while riding tricycles at Freshman Olympics or fighting in the Royal Rumble during Dam Jam. Outside of being suited up, Staton is Student Senate President, a C. Henry Smith Scholar and Bluffton Education Organization assistant. She is also student worker for the education department.
"My favorite part about being the Beaver is getting to interact with different groups of people including your friends, and them not having any idea," said Staton. "No matter who I interacted with people always were guessing who the Beavers were."


Get in the suit!
The reveal kicks off the application process for the next round of Beavers to be selected for the 2023-24 academic year. Application deadline is Sunday, Feb. 5.
Application process >
J. Denny came on the scene in fall 2010 to honor Dr. J. Denny Weaver, professor emeritus of religion and longtime faculty athletics representative at Bluffton. Jenny was introduced in fall 2014 to help J. Denny spread campus spirit. Since their introductions, 46 students have served as J. Denny or Jenny Beaver.