Focusing on service
01/14/2020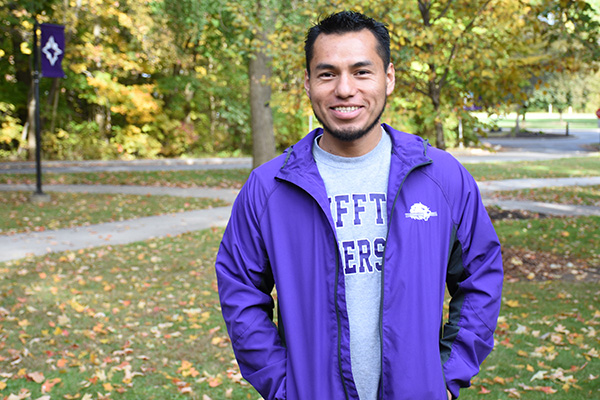 Service to others is focus for Bluffton junior
Junior Wilmar Caal Botzoc first stepped foot in the United States in 2011. A year later, he returned home to Guatemala only to be called back to the U.S. – solely to attend Bluffton University.
Caal Botzoc was a Mennonite Central Committee (MCC) volunteer in 2011-12. A native of the Aldea Chiquixji village in Guatemala, he met the director of MCC while he was a student at Mennonite Kekchi Boarding School and became the first indigenous person from Guatemala to complete International Volunteer Exchange Program (IVEP) through MCC.
When he returned to Guatemala, Caal Botzoc started college and spent the rest of his free time leading mission teams and tourists groups. One of the people in those groups was Dr. Paul Neufeld Weaver, professor of education and Spanish and director of global education. The two met, talked about an opportunity to finish college at Bluffton, and two years later, Caal Botzoc was on a plane to the U.S.
"People always ask me how I got to Bluffton," Caal Botzoc said, "but it's not how I found Bluffton. My story is more about how Bluffton found me."
Caal Botzoc, a social work major, found the transition to Bluffton the most difficult when he learned what the American collegiate academic level is like. His college classes in Guatemala were only on Saturdays. To put it into perspective, his three years of college credit there only equated to one year of college here. But, according to Caal Botzoc, professor support is the best part about college at Bluffton.
"If you ask, you'll get the help," Caal Botzoc said. "At first I thought I was bothering them, but then I realized they're there to help you succeed."
In addition to academic rigor, he faces multiple language barriers. Caal Botzoc primarily speaks a Mayan language. He only began to learn Spanish when he was 12 years old, and his journey to English started in 2008. Caal Botzoc is grateful for the numerous resources Bluffton provides.
"There are plenty of resources to help you learn," he said. "It's up to you to find them."
Before transferring to Bluffton, Caal Botzoc also met other Bluffton students on their semester-long study abroad experience in Guatemala. Those connections made him feel right at home when he came to campus.
"Everyone is so nice here," said Caal Botzoc. "People always say hi as they pass you, and sometimes, they just start having a conversation with you – even if you've never met!"
These seemingly random conversations have led Caal Botzoc to be very involved on campus. One of the most important to him is the worship band. In Guatemala, Caal Botzoc was the director of the worship band at his church. Now, he performs with other Bluffton students perform every week at Chapel and even occasionally at local churches.
"Bluffton not only teaches me about social work but encourages me in my faith," explained Caal Botzoc. "I'm grateful for that experience, as well."
After graduation Caal Botzoc wants to gain more experience in social work.
"I am the ninth child out of 16, and when I was young, my dad asked each of us, 'Do you want to work on the farm or do you want to get an education?'" explained Caal Botzoc. "I didn't really know what education meant, but I knew I wanted to do more and education was the way to do that."
His education may end up leading him back to the family farm anyway. His ultimate goal is to return home and develop his and the surrounding agricultural communities.
"I never thought I'd get to learn these things I'm studying," Caal Botzoc said. "Now I'm figuring out ways to relate all this new knowledge into helping my home village."
"I'm proud to be at Bluffton, and my family is, too."