Alumni weekend
10/06/2023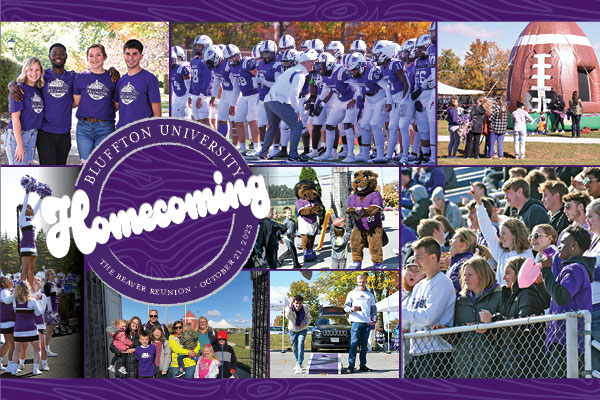 Come to The Beaver Reunion on Oct. 20-22
Bluffton University will celebrate Homecoming and Alumni Weekend 2023 from Friday, Oct. 20 - Sunday, Oct. 22.
Homecoming and Alumni Weekend events will be open to all alumni, students, faculty, staff, parents and friends of the university. Along with cheering on the football, volleyball and swim teams, the Beavers will host alumni gatherings, an open house, food trucks, Beaver Tail-Gating and more.
Tickets for adults are $25 and tickets for children ages 5-17 are $15. Students and faculty/staff with current Bluffton ID will have access to Saturday's activities for free.
Registration includes a ticket to the football game on Saturday, a Homecoming 2023 t-shirt and a meal for Saturday's Food Truck Extravaganza. Registration is required for all events.
Register in advance at www.bluffton.edu/homecoming.
Walkup registration on Saturday, Oct. 21 at Salzman Stadium is also available. Registrations the day of Homecoming must be paid by credit card.
Full schedule of events
Friday, Oct. 20
6 p.m. Bluffton University Swimming and Diving takes on Hiram College at the Lima YMCA.
7 p.m. Bluffton University Volleyball competes against Hanover College at Copeland Court in Sommer Center.
8-10 p.m. Reunion Zero invites members of the Bluffton University class of 2023 to reconnect at Southgate Lanes. Enjoy bowling, an outside patio with sand volleyball courts and the chance to see your classmates!
Saturday, Oct. 21
9 a.m.-1 p.m. attendees may check in at Salzman Stadium. Attendees will receive a welcome packet including a Homecoming t-shirt, Homecoming access wristband, meal ticket for the Food Truck Extravaganza and football game ticket.
10 a.m. to noon enjoy an artist reception for "A Line is a Point" featuring oil on canvas paintings by Kathleen Pahl in the Grace Albrecht Gallery of Sauder Visual Arts Center.
10 a.m. to noon explore the newly completed Austin E. Knowlton Science Center during an open house.
10 a.m.-1 p.m. join classmates and friends under the tent inside Salzman Stadium for reunion-year gatherings. All alumni are invited to meet under the tent at 11:30 a.m. for photographs.
10 a.m.-1 p.m. take part in Beaver Tail-Gating. Activities such as corn hole, inflatables, zipline, golf simulator and pictures with J. Denny and Jenny Beaver will take place inside the stadium.
10:30 a.m. join alumna Chalsi Campbell '12, campus pastor, for worship and reflection in Yoder Recital Hall.
10:30 a.m. head to Library Lawn for an Alumni Ultimate Frisbee game.
11 a.m.-1 p.m. using the meal ticket from the registration packet, attendees will be able to eat from a variety of food trucks at the Food Truck Extravaganza. All unregistered guests may pay cash/card.
1:30 p.m. Bluffton University Football plays Manchester University at Salzman Stadium.
6 p.m. milestone giving awards will be presented and members of the President's Society will be honored at the President's Society Banquet. Alumni awardees and Hall of Fame inductees will be honored, as well. This event is invitation-only and will be held after the completion of the football game.
Sunday, Oct. 22
2:30 p.m. enjoy the Fall Instrumental Concert at Yoder Recital Hall.