Fall theatre performance
11/04/2022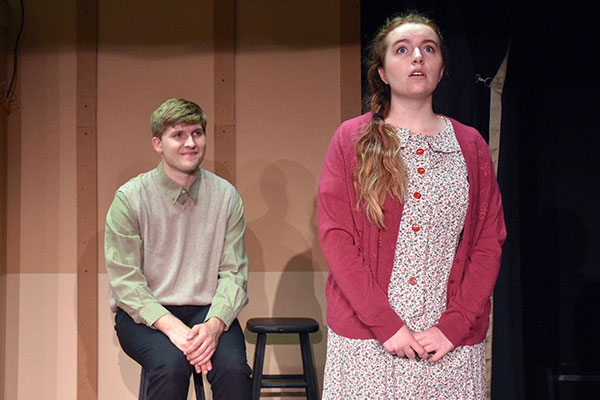 Bluffton University Theatre presents 'The Diary of Anne Frank'
Dr. Melissa Friesen, professor of theatre, chose "The Diary of Anne Frank" as this year's fall play at Bluffton University for both its historical elements and continued importance as a story today.
"The danger of hatred, fascism, political and ideological differences separating society so strongly that some people want to destroy other people, sadly feels very relevant in the world right now," said Friesen.
The story revolves around the confinement of eight people in a tight living space as Jewish families in Amsterdam are forced into hiding from the Nazis during World War II. This sense of claustrophobia will be represented on Ramseyer Auditorium's smaller stage. The set will feature bedrooms, a kitchen and attic space.
"It's true that they were living in tiny, cramped quarters for that many people." said Friesen. "Our stage helps us create that impact that people are walking all over each other. It reemphasizes how concentrated their experiences were for over two years."
The fates of Anne and her family are well known; but what Friesen likes most about this play is that it features the gifts of imagination and humanity in the midst of evil and terrible circumstances and all through the lens of a young girl.
"Anne herself is a historical figure who is a really bright, curious, passionate, fun and deep young woman," said Friesen. "And we know all that because she wrote down her thoughts in her diary, so we get to hear this glorious expression of a bright young woman through her words. Bringing that to light on stage is a real gift."
The play also features rich characters, complex family dynamics and range of human emotions.
"It's just so compelling and helps us recognize those qualities in ourselves and those qualities in others," said Friesen. "And I hope that builds empathy and understanding for people who may be different from ourselves."
Performances will take place at 7:30 p.m. on Nov. 10, 11 and 12, and 2:30 p.m. on Nov. 13, in College Hall's Ramseyer Auditorium. Tickets are $8 for adults and $6 for senior citizens, Bluffton faculty and staff and non-Bluffton students. Bluffton University students can enjoy the play for free. Tickets can be purchased or reserved at www.bluffton.edu/tickets or through the HomeTown Fan ticketing app.
The Diary of Anne Frank" is the 2016 definitive edition by Frances Goodrich and Albert Hackett and newly adapted by Wendy Kesselman, licensed by Dramatists Play Service Inc.