Under the lights
08/29/2022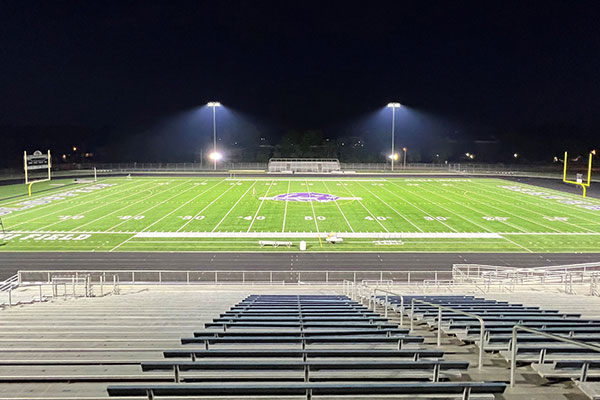 Come celebrate stadium lights
Bluffton University's first football game under the newly installed stadium lights is scheduled for the Beavers' home opener at 6 p.m. on Sept. 17, 2022, against Adrian College. A dedication ceremony with donors Randy and Debbie Gade will take place during half-time of the event.
Randy Gade is a 1973 Bluffton alumnus who competed in Bluffton athletics. The southern Florida couple is retired after selling their successful company, Accutech Instrumentation Inc.
Tickets for the event and all Bluffton football games must be purchased online at www.bluffton.edu/tickets or through the HomeTown Fan App available on Google Play or the App Store.
With the addition of stadium lights, Bluffton looks forward to many new student engagement opportunities on campus as well as serving as the competitive turf field for Bluffton men's and women's soccer and as the practice space for several other teams. The campus community also looks forward to Alumni Field possibly hosting area high school playoff games.
A member of the Heartland Collegiate Athletic Conference, Bluffton student-athletes compete on 18 NCAA DIII men's and women's athletic teams.