A look into the past
02/24/2023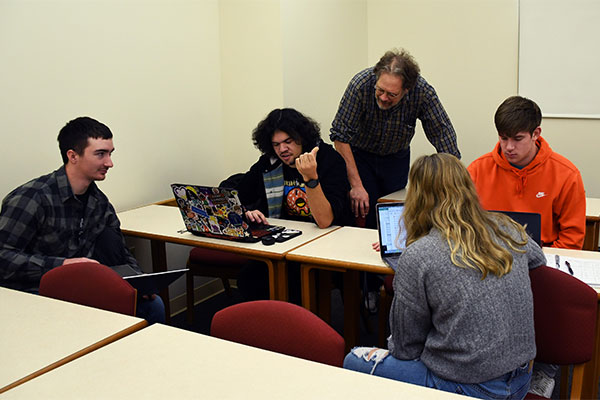 History majors uncover segregation, 'black excellence' through neighborhood reconstruction project
For more than 25 years, students in Perry Bush's Theory and Application class have transitioned from students of history to historians over the course of a semester.
Made up mostly of history majors, students are assigned six houses in a specific neighborhood in Lima, Ohio, to research starting with the early 1900s and continuing through the 1940s. Using data collected at the Allen County Museum, the Lima City Directory and online sources such as Ancestry.com, students reconstruct a neighborhood by finding out as much as they can about the people who lived there during four different points in time.
"We're not just spitting out things we've learned from the text of a book. We're doing real history. It's confusing, it's hard and you can't go to a book to find the answer," said Michael Stuff '25, a history major from Galion, Ohio. "But it's been very interesting."
Described as a working-class city by Bush, the typical demographics of the studied neighborhoods throughout the years have been quite similar. Many Lima residents in the early 1900s were the children and grandchildren of Irish or German immigrants who worked blue-collared jobs in factories or the railroad industry.
This year, however, the class "put their fingers on the bones of Lima's historic African American neighborhood," according to Bush, who assigned houses near St. Paul AME Church. Founded in the early 1900s, the church remains active on West Spring Street.
Very few black residents were documented through prior neighborhood reconstruction project. Past neighborhoods included the Old North End (Haller and McKibben Streets), South Lima (Kibby Corners and South Main) and the Garfield Neighborhood (North Jackson and Pine Streets). Previously, the largest number of black residents in studied neighborhoods was less than 15 percent. However, nearly 70 percent of the homes studied in the Far West End neighborhood this year were owned or occupied by black residents.
"We didn't find it shocking when we compared our data with each other and learned that our neighborhood was predominantly black," said Macey Thomas '25, a history major from Bowling Green, Ohio. "But that changed when we compared our data to the data collected through the previous projects."
Bush says the data points to the de facto segregation and Jim-Crow-era racism prevalent in Lima and most American cities in the early 20th century. While students found white residents from their neighborhoods who worked at places such as the Lima Locomotive Works, the black residents had very different jobs and often worked in domestic roles such as maid.
"We're not putting on rose colored glasses or airbrushing out the warts of this history in this class," said Bush. "We're remembering the past as it was and there are lessons out there for us."
It wasn't until the late 1930s when John Galvin began recruiting African Americans from the south to work at the Ohio Steel Foundry that manufacturing jobs were opened to African Americans. Student data shows that the number of African American residents in their neighborhoods grew during this time as well. Today, black residents make up about 26 percent of Lima's population.
Anton Miller '24, a history major from Springfield, Ohio, was inspired by the people in the neighborhood including Robert Patterson who started out as a teamster (someone who drives horses) with a third-grade education. However, by the 1940s, Patterson had become a funeral director and one of the wealthiest people in the neighborhood.
"Considering the systemic oppression, racism and marginalization that existed at the time," said Miller, "I felt this neighborhood served as an example of black excellence in the early 20th century."
At the end of the semester, each student submits a 10–12-page paper where they "produce insights into the past that haven't existed until now," explained Bush, who shares the data with the Allen County Museum.
"What they found is significant," said Bush. "They're real historians and they're contributing to the larger body of scholarship."