Not just an assignment
02/03/2023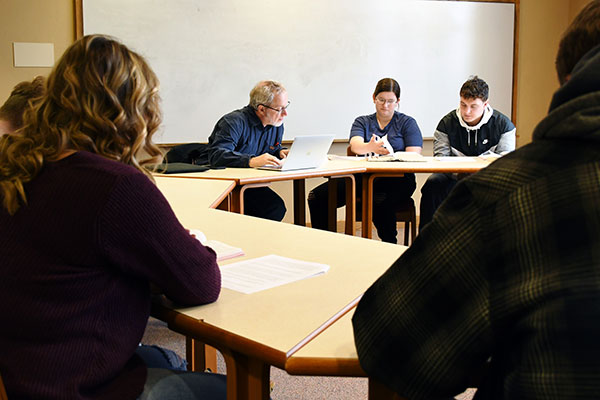 Anabaptist Community Bible to recognize 500th year of the movement
During the fall 2022 semester, Dr. Gerald Mast's Religious Communication class at Bluffton University developed study notes based on class discussions of three texts from the Bible including one each from the Old Testament, New Testament and Psalms.
The notes will be considered for inclusion in the Anabaptist Community Bible, a venture of MennoMedia's Anabaptism at 500 project which will celebrate the 500th anniversary of the Anabaptist movement in 2025. Mast is a member of the Anabaptism at 500 advisory group.
"Since I'm invested in making sure that there are a wide variety of study groups for this project, I thought that this class and the particular students who are in it would have a lot of creative things to say about the passages we were assigned," said Mast, a professor of communication. "We started with an obscure passage in Leviticus, and we had a lot of great conversations."
The Bible project, which Mast describes as the centerpiece of MennoMedia's various efforts to recognize the anniversary, will include study notes from Anabaptist study groups from across North America. His students were randomly assigned to reflect on the passages Leviticus 4:1-35; 5:1-13, Mark 10:13-31 and Psalm 27:7-14.
"We all sat at a round table, faced each other and shared our thoughts," said Aspyn Rafac '25, a communication and media major from Lakeview, Ohio, of the class. "It was interesting to see the different ways we would interpret things. We had our own viewpoints and differences of opinions, but we were also able to find our commonalities."
The study notes project complemented other class assignments such as preparing sermons and sharing audiovisual presentations. Throughout, students were challenged to critically interpret the assigned texts.
"They had to think about the context of the passage, the original audience, and its interpretation and meaning over the centuries," said Mast. "They had to think about how their comments would be helpful to future readers. Not Bible scholars, but people like them."
The class included a mix of students taking the course for general elective credits as well as for Bluffton's communication major. Students felt the pressure to "do a good job."
"It was a bit nerve racking," explained Jeremy Locklear '22, a food and nutrition major from Lincoln Park, Mich. "What if readers don't agree with our interpretations? What if my thoughts don't match up? But we took the project seriously, and it definitely made us think more carefully about what we were reading."
Other groups from the university are considering taking part in the project. Mast is currently involved in gathering notes from historic Anabaptist sources such as Menno Simons and imprisoned Anabaptists as recorded in the "Martyrs Mirror" as well as taking part in a study group at First Mennonite Church in Bluffton.