Homecoming and Alumni Weekend
09/24/2021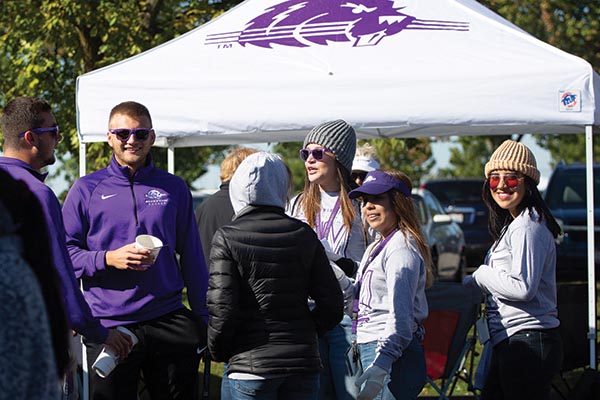 Come Home Oct. 1-2
Bluffton University will celebrate Homecoming and Alumni Weekend 2021 on Friday, Oct. 1, and Saturday, Oct. 2.
Homecoming and Alumni Weekend events will be open to all alumni, students, faculty, staff, parents and friends of the university. Along with cheering on the Beaver football and volleyball teams, the university will host alumni and affinity gatherings, campus tours, food trucks, Beaver Tail-Gating and inflatables. The 2000 Beaver football team will be honored during halftime of the football game for their HCAC championship.
Tickets for adults are $25 and tickets for children ages 5-17 are $15. Students and faculty/staff with current Bluffton ID will have access to Saturday's activities for free.
Registration includes: ticket to either the football or volleyball game on Saturday, Homecoming 2021 t-shirt with artwork by alumna Hannah Brown '20, $5 voucher to be used at select downtown Bluffton restaurants, and meal ticket for Saturday's Food Truck Extravaganza.
Register in advance at www.bluffton.edu/homecoming.
Walkup registration on Saturday, Oct. 2 at Salzman Stadium is also available. Registrations the day of Homecoming must be paid by credit card.
Full schedule of events
Friday, Oct. 1
4:30 p.m. groundbreaking at the future site of Bluffton's Knowlton Science Center.
5 p.m. attendees are invited to explore some of their favorite Bluffton village spots. The $5 voucher included in the registration packet can be used at Luke's, Campito Lindo, Twisted Whisk or The Dough Hook.
6 p.m. the Biking Beavers Bike Tour hosted by faculty will leave from the Bluffton University campus, travel around town and conclude at the Nature Preserve for a sweet treat.
8-10 p.m., Reunion Zero invites members of the Bluffton University classes of 2020 and 2021 to reconnect at Southgate Lanes. Participants will enjoy bowling and an outside patio with sand volleyball courts.
Saturday, Oct. 2
8:30 a.m.-1 p.m. attendees may check in at Salzman Stadium. Attendees will receive a welcome packet including a Homecoming t-shirt, a Homecoming access wristband, a meal ticket for the Food Truck Extravaganza and a game ticket (either football or volleyball).
8:30 a.m. are invited to explore the village all day Saturday including the Bluffton Farmers Market from 8:30 a.m. to noon.
9 a.m.-3 p.m. the Bluffton University Campus Bookstore, located in Marbeck Center, will be open and selling Bluffton University merchandise.
9 a.m. tours will be given by a Bluffton University President's Ambassador. Meet at the circle drive near Yoder Recital Hall.
10 a.m. the director of the Lion and Lamb Peace Arts Center, Louise Matthews, will be giving a tour of the art around the Bluffton University campus.
10 a.m. to noon John Blosser, painter, and Ralph (TR) Steiner, ceramicist, will talk about their recent works exhibited in the Grace Albrecht Gallery of the Sauder Visual Arts Center.
10 a.m.-1 p.m. Reunion and Affinity Gatherings will take place at Salzman Stadium. Inside the stadium, Bluffton University will have separate gathering spaces for the Class of 2017, Class of 2012, Class of 1972, Black Alumni, Education Alumni and TEAM Bluffton.
10 a.m.-1 p.m. join President Wood, alumni, students, and guests for Beaver Tail-Gating. Activities such as cornhole and inflatables will be available. The Food Truck Extravaganza will also be underway.
10 a.m.-5 p.m. Alumni Oral History Sessions will be held at Musselman Library. Twenty-minute sessions will be offered for sharing stories about Bluffton (all stories will be recorded). Sign up during registration in advance; walk-in sessions will be available on a first come, first served basis.
11 a.m. the Volleyball Reunion Gathering will start outside the Sommer Center. Volleyball alumni, parents and friends are all invited for a volleyball tailgate.
11:30 a.m. the Music Alumni Gathering will start in the Gilliom Room. An alumni pep band rehearsal will follow beginning around 12:30 p.m. Bluffton University encourages alumni to bring their own instruments, school instruments will be first come, first served.
Noon the Ultimate Frisbee Reunion will start at Library Lawn.
1 p.m. the Bluffton University volleyball team will be playing Transylvania.
1:30 p.m. the Bluffton University Football team will be playing Mount St. Joseph. Members of the 2000 football team will be recognized at halftime for their conference championship.
4 p.m. campus tours will be given by a Bluffton University President's Ambassador. Meet at the circle drive near Yoder Recital Hall.
5 p.m. the Bluffton University volleyball team will be playing Trine.
6 p.m. milestone giving awards will be presented and members of the President's Society will be honored at the President's Society Banquet. This event is invitation-only and will be held after the completion of the football game.