"Messiah" retrospective
12/02/2020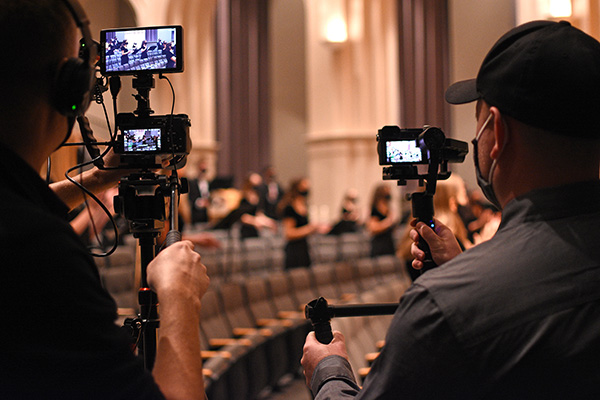 The show must go on for Bluffton's 'Messiah'
For the Bluffton University music department, one of the major goals heading into the 2020-21 academic year was to provide students as well as the larger campus community with opportunities to both perform and enjoy live music. That goal included the university's biggest concert of the year, Handel's "Messiah."
"We were brainstorming ways to do all of our concerts this year, and I realized that this was a significant year for us," said Dr. Crystal Sellers Battle, music department chair. "So the question became, how do we honor this tradition while still being mindful of how COVID-19 is impacting live performances everywhere? That's when the retrospective was born."
Instead of recording a traditional concert to be viewed through streaming services, the music department is teaming up with Chad Stearns '00 and Cody Ridenour '08, co-owners of Modo Media, a Lima, Ohio, based video and design agency, to develop a mini-documentary. Stearns and Ridenour both participated in "Messiah" as students.
"I think anybody who was in the music department probably has a memory or story about 'Messiah,'" said Ridenour. "We're going to make sure those stories get told and are preserved forever."
The video will include reflections from past conductors including Dr. Steve Jacoby and Dr. Mark Suderman; archival footage, photographs and recordings; and a socially-distanced performance of select portions of the oratoria featuring current students, soloists and a string quartet.
"I love that we are working with the music faculty to pivot and come up with a different way to celebrate the 125th performance of 'Messiah,'" said Stearns. "We're truly honored that we were asked to be part of this. It's good to be back at Bluffton."
Community members, who are typically invited to sing in the chorus, will not be taking part to reduce the risk of COVID-19 transmission. Students will be performing from the seating area of Yoder Recital Hall rather than the stage due to space restrictions.
While so much has changed this year, Sellers Battle is excited to keep this tradition moving forward and to share the final version.
"Because they were music majors, I know that they understand the special care that is needed to create something that celebrates the music as well as the tradition," said Sellers Battle.
Bluffton's 125th performance of "Messiah" will be streamed at 4 p.m. on Sunday, Dec. 20, at www.bluffton.edu/mus.