Virtual fall play
10/23/2020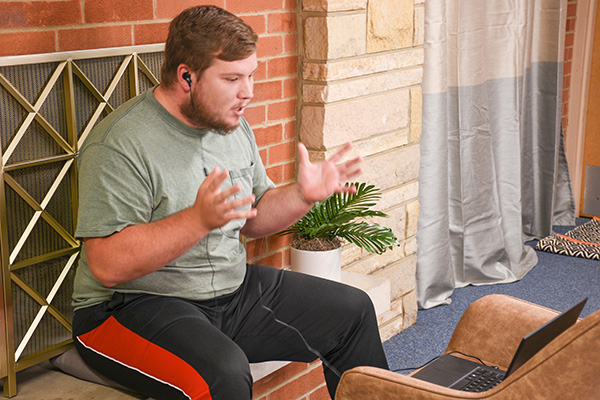 Bluffton students present a series of short plays written for Zoom
Last spring when the university transitioned to remote learning, Dr. Melissa Friesen, professor of theatre, was forced to stop rehearsals of Bluffton University's annual musical. While necessary due to the COVID-19 pandemic, the result was disappointing for all involved.
"High on my list for the fall was to pick something that could go forward no matter what," explained Friesen. "I wanted to ensure that we could provide theatre opportunities for both our students and the community."
When choosing the material for this year's fall play, Friesen searched for works specifically written to be performed over Zoom videoconferencing technology. She found a treasure-trove of material commissioned by UC Santa Barbara and licensed for virtual performance.
"All of the plays we are performing are written for Zoom, and they've been written since March so they all have to do with this current moment," said Friesen. "They capture the little dramas that are being communicated through these boxes on our screens."
Friesen chose five short plays including four from the UC Santa Barbara collection for this year's performance. The collection is titled, "Alone, Together." In total, they explore the challenges and surprises of social distancing during the pandemic with charm, humor, tenderness and loss.
Undertaking this type of theatre is presenting new challenges for Friesen, the actors and even the audience, but it's also inviting new possibilities.
One challenge, the whole cast has never actually been in the same room. Most rehearsals have taken place entirely on Zoom, except for very early, socially-distanced read-throughs. Actors are performing directly from residence halls, empty classrooms or office spaces on campus. However, because each play is less than 10-minutes in length, new actors who were previously too busy for a full-length play auditioned.
"We have a couple of students who had never done a play at Bluffton or who hadn't performed for a couple of years. A 10-minute play is much more doable in terms of the time you can devote to it. The rehearsals just aren't as long," explained Friesen. "Now, that also means there are just one, two or three characters in each play, so the actors truly have to carry the play. There are no small parts."
While some people may prefer an in-person theatre experience, Ramseyer Auditorium can only hold about 25 people with social distancing in place. Plus, campus remains closed to most visitors and off-campus guests. However, Friesen sees this challenge as an opportunity. Presenting the play online allows more people to experience a Bluffton theatre production—from the faithful community members who attend each year to alumni or family and friends who live far away.
"You can take part in theatre from wherever you want! If you have a streaming device—your phone, your computer, your smart TV—you're good. Being virtual actually opens up some audience possibilities for us," said Friesen. "We would love for people to try out a virtual theatre event with Bluffton. Now is a great time to experience something different and creative."
Performances will be available for viewing at 7:30 p.m. Thursday and Friday, Oct. 29-30, and 2:30 p.m. Sunday, Nov.1. Ticket prices are $5 plus streaming fees for general admission (single device); $15 plus streaming fees for group viewing (single device); and free for Bluffton University students, faculty and staff.
Tickets are available at www.bluffton.edu/fallplay