ODHE Roundtable
09/16/2020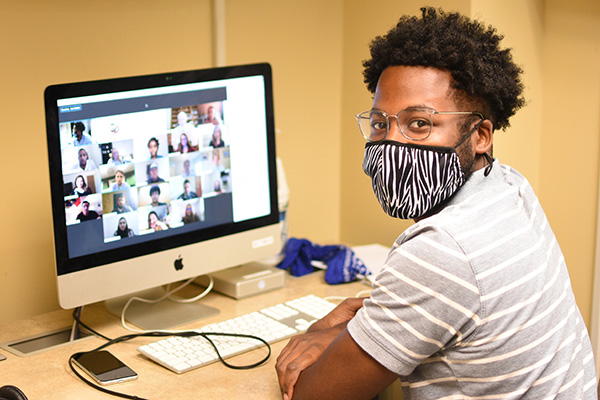 Bluffton student participates in roundtable discussion with Governor
Kai Smith '22, a social work and pre-art therapy double major, was recently selected to represent Bluffton University in a roundtable discussion with Ohio Governor Mike DeWine and Ohio Department of Higher Education Chancellor Randy Gardner. Smith, along with college students representing other private, public and community colleges from across the state, shared how the COVID-19 pandemic is affecting their lives and education.
"The governor opened up by asking us our concerns. He was there to listen which was very nice," said Smith. "I think, even where there is not a crisis, things like this should happen. It was an amazing opportunity."
A range of topics were addressed, but the overarching area of concern was mental health issues—from concerns about funding on campuses to the struggle to adjust to changes caused by the pandemic.
Smith shared about the anxiety out-of-state, international and "endangered" students faced when they were asked to complete the 2020 semester through distance learning. Smith, who is from Washington, D.C., was granted permission to stay on campus through the spring and summer months.
"I think those were months where a lot of growth took place for everybody," said Smith. "I know I grew a lot just by living on my own. It was scary, but it was also rewarding."
Other discussion points included student workload, struggles with distance teaching and learning, and student life challenges. Smith shared that some participants were frustrated by the lack of events being offered at their schools.
"This is where I was like 'Go Bluffton' because a few students said their schools were outright saying no to events, and now they're having issues with students going out and doing other things," said Smith. "Kevin White [assistant director of the university event complex] has done a phenomenal job making that less of an issue here."
Smith participated in the videoconference from the campus radio station while he said others appeared to be joining the conversation from their residence hall rooms or classrooms. He appreciated the opportunity for a range of voices to come together to share about the challenges their colleges and universities are facing and talk through possible solutions.
"We have these super computers in our pockets at all times, and I always have this nabbing feeling that I'm not using it in ways to further myself," said Smith "This is an example of a way that we can use technology to further ourselves. I've never seen anything that was so impromptu but effective. Hopefully it will be effective. The governor was there and he was listening."
Smith is a resident advisor in Ropp Hall and is the program director of 96.1 The Wit. He is involved in Multicultural Student Organization and International Connection.