Enrollment grows
09/15/2020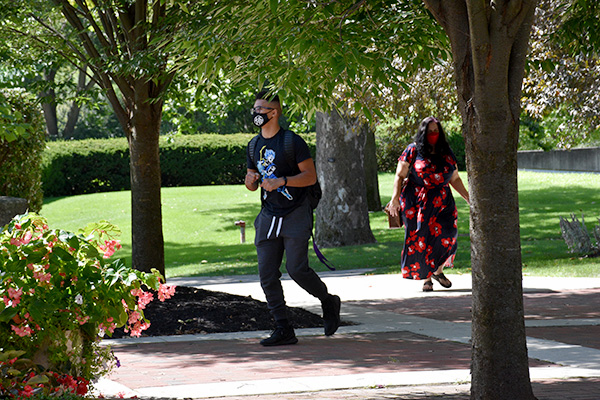 Student numbers increase despite pandemic
Bluffton University's undergraduate enrollment numbers are on the rise for the 2020-21 academic year. A solid incoming class combined with successful retention efforts account for a 21-student increase over 2019-20 enrollment.
Bluffton's first-year class includes 195 students. Thirty-one percent are considered American minority, a 7 percent increase over last year's incoming class.
Total full time enrollment of 726, which includes adult and graduate studies, is also up by 25 students.
"Bluffton University is thrilled to increase enrollment for the 2020-21 academic year," said Robin Bowlus, vice president of advancement and enrollment management. "Our first-year class is not as large as it was last year, but these figures are excellent considering the many unexpected obstacles we have faced since March due to the COVID-19 pandemic. It is a true joy to have students safely back on campus as they prepare for their life and vocation."
Last year's incoming class was Bluffton's largest in six years and retained at 72 percent, Bluffton's highest retention rate in a number of years. Transfer enrollment also increased. However, international enrollment is down, which was expected. Bluffton welcomed two new international students from Japan and Thailand.
"Recruiting for the next class at Bluffton University is well underway. We have hosted 100 more visits for the high school senior class of 2021 compared to the number of visits for the class of 2020 in the same time period," said Bowlus. "We remain grateful to our alumni and friends who recommend students to come to Bluffton," said Bowlus. "Their passion for the university and influence is helping us reach new students who are ready to develop their greater purpose."
Bluffton also welcomed its largest MBA cohort in three years. Master of Business administration classes are offered via Zoom videoconferencing technology and are designed for working adults.
"Bluffton's MBA is focused on leadership development with an emphasis on growth not only in our students' professional worlds but in their personal lives and within their communities," said Bowlus. "We've increased our commitment to improving access to quality graduate degrees through recent initiatives such as the Alumni Master's Degree Grant and the Corporate Partners Program."
Located on a 65-acre residential campus, Bluffton offers 86 majors, minors and interdisciplinary programs for undergraduate students, including nationally accredited programs in dietetics, education, music and social work.
Opportunities for working adults include accounting, business management and RN to BSN degree-completion programs and graduate programs in business administration (MBA), education and organizational management.
Founded in 1899 and affiliated with Mennonite Church USA, Bluffton University graduates are prepared for life. Ninety-nine percent of Bluffton alumni are employed or in graduate school or long-term service within six months of graduation.