Beaver athletics return
07/27/2020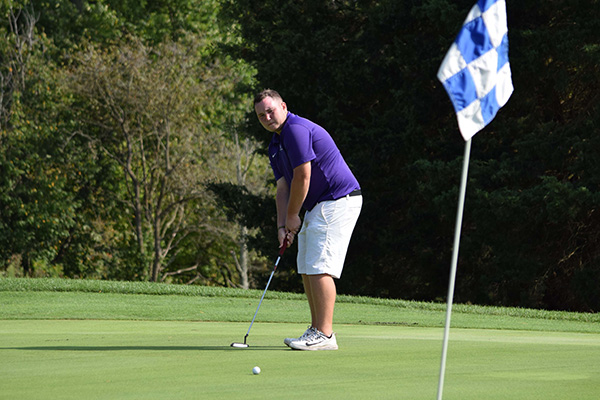 Aug. 26, 2020, update:
HCAC Council of Presidents voted unamously to postpone all conference related contests and competitions until Jan. 1, 2021.
HCAC statement >
Beaver's will be in action this fall; home games will limit fans
This morning the Heartland Collegiate Athletics Conference released its safer return to athletics plan that includes practice and competition opportunities for all teams. For most of Bluffton University's athletes, this means they will have a split-season experience with practices in the fall, with possible competition with regional schools, and a spring practice and conference game schedule. For some teams, there will be no changes to their practice and competition schedule.
"I am thankful for the thoughtful and purposeful approach that my colleague Presidents and the HCAC Commissioner, Mr. Jay Jones, used to come to this decision," said Bluffton University President Dr. Jane Wood. "The NCAA has provided clear guidance on testing and processes for each of the sports which helps to provide a safer return to athletics for our student athletes and athletics staff. As the release states, it is the priority of the HCAC and its Council of Presidents to be committed to the health and safety of everyone in our campus communities and those involved in intercollegiate athletics at our schools. It is also our priority to be able to provide an intercollegiate athletics experience for our student-athletes and our campus community, even during this time. Athletic practice and competitive play is important for the physical and mental health of our students. We believe this can be done through our safer return to athletics plan."
Football, volleyball and men's and women's soccer have all been determined to be "high risk" sports by the NCAA. Bluffton's teams will have a selected number of practice days in the fall, and based on testing availability and COVID rates at the time, hopefully some joint practices and competitions with regional teams. Any competitions will count towards the season records; but any games against conference teams will not count towards the conference season standings. These teams will then re-start their season in the winter months and compete for the conference titles in the spring.
Baseball and softball have been determined to be "medium risk" and will have longer fall seasons with practice and competitions. These games will count towards season records; but any games against conference teams will not count towards the conference season standings which will remain in the spring. It is not known at this time if baseball and softball will be able to travel south for spring break games this year and the games in the fall season will make up for those missed games. Baseball and softball will then restart their season in the spring with practices and all conference games.
Cross country, men's and women's golf and track & field (indoor and outdoor) have all been determined to be "medium to low risk" and at this point, there is no change to their seasons except they will have no overnight trips.
Men's and women's basketball competitive seasons are still being evaluated; at this time practices and scrimmages will continue as planned per the NCAA guidelines.
"I very much appreciate our coach's efforts to reorganize their fall plans in a short window of time. I have also made the commitment to work with the sports medicine staff and our local medical and testing locations to ensure that the testing needs of Bluffton University student athletes successfully fulfills NCAA testing recommendations without drawing vital health resources from our local communities," said Wood. "I am also making the commitment to direct a portion of the University's COVID Relief monies to help cover costs of initial testing for student-athletes."
As part of Bluffton University's #ProtectTheDam plan to keep the Bluffton bubble as safe as possible, Bluffton limit crowd sizes at all home athletics contests, both for inside and outside facilities. All students, faculty and staff will be encouraged to attend home contests and at no charge.
Unfortunately, for this year, Bluffton University will not permit families of students, faculty, staff or off-campus community guests and visitors to attend home games. Game Day recruit visits will be permitted, but in a controlled environment.
Each of the HCAC schools are setting their own policies on visitors based on their local situations.
"As a parent of former student athletes, I know how important all college games are for families. And I am especially sad that families of first-year students and seniors may not be able to join their students on campus for their first or final games. We are working to provide live streaming for as many home athletics contests as possible so all families and friends can cheer on our Beavers from your homes. I am committed to re-examining this decision as we all work through the coming months. If COVID rates and warning levels improve, my hope is we can be more open to our visitor policy on campus as the academic year continues," said Wood.
Bluffton University students will begin returning to campus the week of Aug. 9 and classes will start in-person on Aug. 17.
Statement from the HCAC
"After extensive deliberations, the Heartland Collegiate Athletic Conference (HCAC) Council of Presidents has unanimously voted to modify the timing of conference competition and championships for fall sports classified by the NCAA as high contact risk (football, men's and women's soccer, women's volleyball). The Conference will delay the start of those sports' competitive seasons to the spring. The HCAC is committed to offering engaging athletic experiences for student athletes in these sports with extensive team activities this fall followed by spring competitive seasons. In adjusting to the challenges presented by the pandemic, these modifications place safety in the highest priority but help ensure the opportunity for as much participation as possible in each HCAC sport.
The decisions on shifting the competitive seasons for these high contact risk sports came after careful analysis of whether HCAC institutions could successfully fulfill NCAA testing recommendations without drawing vital health resources from their local communities. In addition, the conference feels that as continued scientific and testing gains are made with respect to the CoVid-19 virus, a spring season for the high contact risk sports will be safer for our student-athletes. Finally, with the recent NCAA waiver allowing for flexibility in how teams seasons are structured, the Council of Presidents felt that students could still have meaningful experiences this fall, even without conference competition.
Based on their risk classifications as assigned by the NCAA, the HCAC will progress forward with fall seasons in the sports of golf, tennis and cross country. The Conference will also schedule some competitions for the sports of baseball and softball in the fall that will not count toward league standings.
A decision on basketball (defined as high contact risk sport by the NCAA) will be made in the near future. Swimming and diving is classified as a low contact risk sport and will continue forward with their standard winter schedule.
The Conference will continue to explore all options for a safe return to intercollegiate athletics. The HCAC leadership will communicate further developments regarding competition in 2020-21 as solutions are finalized and implemented. The priority of the HCAC and its Council of Presidents continues to be a commitment to the health and safety of everyone in our campus communities and those involved in intercollegiate athletics at HCAC member institutions."