2020 Commencement
07/20/2020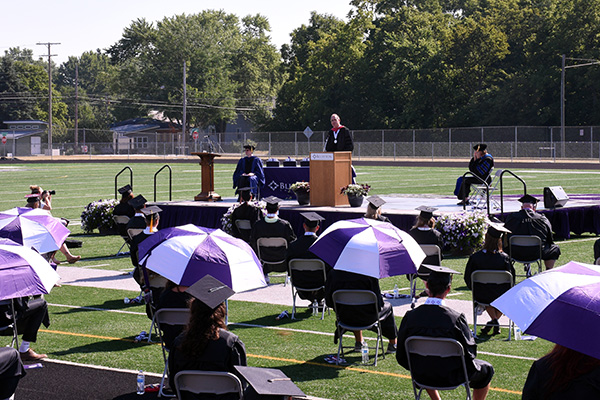 2020 graduates celebrated during unique Commencement ceremony
The achievements of Bluffton University's class of 2020 were celebrated Saturday, July 18, 2020, during a socially-distanced, in person Commencement at Salzman Stadium. More than 80 percent of the graduating class, and up to two guests each, were in attendance for the delayed event.
In special recognition of this year's class, each student was given a medallion featuring the Bluffton University presidential seal to wear as they walked the stage.
"It was created for this graduating class only, in honor of their resiliency and dedication to achieving their graduation goal during these turbulent times," said Dr. Jane Wood, president. "May this medallion always be a symbol to you that no matter what life path you choose to follow, you already have persevered through difficulty to achieve your degree. This medallion speaks to your achievements and our continued confidence and belief in you."
Dr. David Yost shared the Commencement address. A 1983 Bluffton graduate, Yost is a physician and CDC Consultant on Indian Health Service and Infectious Disease and Public Health Projects. He was selected before the COVID-19 pandemic broke out in the United States.
During his speech, Yost chose not to directly address the pandemic as it is something we are all living out every day. Instead, he recalled his role during an earlier pandemic. As part of a rapid response team for the CDC, Yost was summoned to Ohio in October 2014, when the Ebola virus was detected in the state.
"There was widespread panic in Ohio, and a lot of people were scared," said Yost, who was thrust into the national spotlight while helping the state manage a disease (unlike HIV, malaria or tuberculosis) that he knew very little about.
Yost recalled the words of a young computer specialist on his team that reminded him of the graduates in the audience. Looking nervous, she shared, "I haven't done anything like this before."
His first inclination was to reply, "That makes two of us."
Instead, he realized he had more than two decades of experience dealing with infectious disease so he said, "Hang on, we'll get through this together."
To the crowd of students, he shared that they will at some point in the near future be scared, too. From being first-year teachers facing students for their first time on their own to being a social worker making the decision to remove a toddler from an abusive situation.
"You will find out that you will all be scared. I wish I was the kind of graduation speaker who would say, but you are Bluffton Beavers, and you have the perfect skill set to handle any challenge you face without help," Yost said. "But that's not how the world works."
Instead, Yost encouraged the students to find and lean on mentors during times of struggle, and he reminded them that mentors at Bluffton, "have given you guidance. They helped you, they've helped your parents and they've helped your friends. They have become the cornerstones of your time at Bluffton."
Now, as the graduates are ready to go out and serve, he encouraged them with the fact that there are a lot of good people who will offer guidance.
"Seek them out and know one day you'll be the one who is turned to."
President Wood ended the ceremony we these thoughts: "May you now go forward, confident and inspired by your Bluffton education, to make this a better world for all. May God's presence and guidance be with you on your journey. Go in peace and with hope in all things."
Commencement, originally scheduled for Sunday, May 3, was postponed due to stay-at-home orders and the spread of COVID-19. The event was organized following guidelines from the CDC and Ohio Department of Health. Campus leaders worked extensively with Allen County Public Health to plan the details of the ceremony.