Profit into peace
05/17/2021
Convergent media major's speech earns top marks in oratorical contest
Olivia Tennefoss '21, a convergent media major from Greenwood, Del., was named the winner of Bluffton University's annual C. Henry Smith Peace Oratorical Contest.
Tennefoss' speech, "Turning Profit Into Peace: The Shalom of Small Business," celebrates the way small-town entrepreneurship builds peace and well-being in a local economy as well as globally.
She earned $300 and will compete against winning students from other North American Mennonite colleges during the bi-national competition.
Claire Myree '21, an English and communication double major from West Chester, Ohio, came in second with the speech, "Making Peace with Our World through Reduction."
Jenny Dorsey '21, a Bible and theology major, came in third with the speech, "We Need Not Make Another Other: How the Church's Practice of Exclusion Violates Jesus' Call to Peace."
Gabriel Denecker '21, who won last year's contest, also gave a speech titled "Privilege and Greed: Global Inequalities and the Things that Keep Us from Peace."
The second and third prize speech winners were awarded $200 and $100 respectively.
The contest is named in honor of C. Henry Smith, an early 20th century Mennonite historian and a professor at Bluffton, as well as at Goshen College.
The C. Henry Smith Peace Oratorical Contest began in in 1975. However, the oratorical tradition has much deeper roots as Bluffton held its first oratorical prize contest in 1905 during commencement week.
This contest is administered by the communication and theatre department at Bluffton University. Dr. Gerald Mast, professor of communication, has taken the lead for 25 years.
"The contest is important because it offers an opportunity for students to practice the art of public advocacy on behalf of a more peaceful world," said Mast. "In a time when the practices of democratic civic engagement are in decline, a speech contest keeps the ancient tradition of deliberative speech alive. Creating and delivering audience-mindful speeches is itself an art of peace even as in this contest the focus of the speeches is on advancing the prospects for peace in our world."
The judges of this year's competition included: Dr. Martina Cucchiara, associate professor of history, Kathryn Spike, assistant professor of English and Dr. Zachary Walton, professor of communication
Winners of the peace oratorical contest at Bluffton University have frequently won prizes at the intercollegiate level.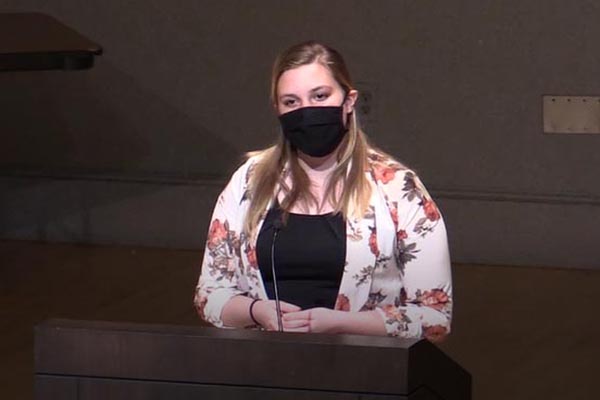 ---
Olivia Tennefoss celebrated the way small-town entrepreneurship builds peace and well-being.