2021 Commencement
05/11/2021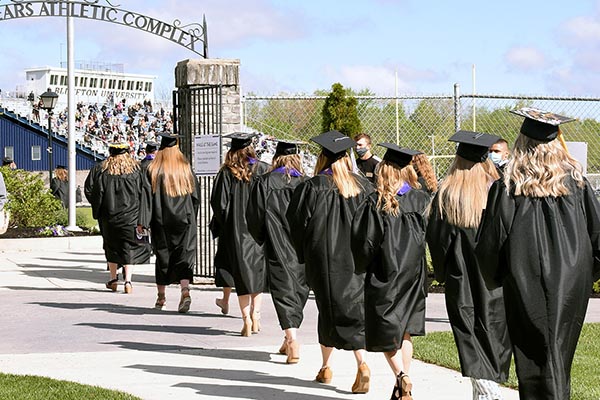 Graduates celebrate
The achievements of Bluffton University's class of 2021 were celebrated Saturday, May 8, 2021, during an in-person Commencement at Salzman Stadium. Special this year, graduates crossed the stage wearing purple stoles. The unique memento was designed as a testament to their resilience during the past year and a half and their commitment to completing their education through the COVID-19 pandemic.
"May this stole always be a symbol to you that no matter what life path you choose to follow, you already have persevered through difficulty to achieve your degree," said President Jane Wood. "This stole speaks to your achievement and our continued confidence and belief in you both individually and as the Bluffton University class of 2021."
Lawrence E. Milan shared the Commencement address. A 1973 Bluffton graduate, Milan is the senior vice president, chief HR and diversity officer at Connecticut Children's Medical Center.
During his speech, "The Present Is But A Moment—How Will You Show Up?," Milan focused on three attributes that make for a successful personal brand: self-aware, self-propelled and selfless.
Self-aware
According to Milan, being self-aware means knowing your character, feelings and motives.
"When you see yourself objectively you recognize not only what you did well but what you can improve on," he shared. "You demonstrate more empathy towards others and you strengthen your personal and professional relationships."
Self-propelled
For the second point, Milan emphasized that motivations for success come from within. He reminded students that they do not need to wait for a certain amount of time to "show up" in their career. Instead, they should seek out mentors, seek feedback and plan for how they are going to show up when their career or life are not progressing the way they anticipated.
"Achieving your most ambitious goals will require a deep resilience that will endure the lingering doubts, the second guesses and the critical moments where you question your abilities, your readiness, your worthiness," said Milan.
Selfless
Being selfless, explained Milan, is important for a graduate's career as well as for a person's ability to evolve as a compassionate human being.
"It's not your responsibility to solve all of the world's problems, but neither can you ignore them," Milan said. "Know that you are not alone. The Bluffton family network has a very long reach."
He ended the presentation asking for God's special blessing on Bluffton's graduates as they go forward.
"Remember, there's no script for life's journey. You are the author of your next chapter. Make it worthy of reading by the generations that follow you because after all is said and done, the present is but a fleeting moment. No day is promised to any of us. Make every moment count, and ask yourself: 'How am I showing up?'"
Nearly 200 students celebrated graduation during Bluffton's 121st Commencement including traditional and degree-completion graduates earning bachelor's degrees as well as MBA and MAEd students earning master's degrees.