Athletic awards
04/21/2021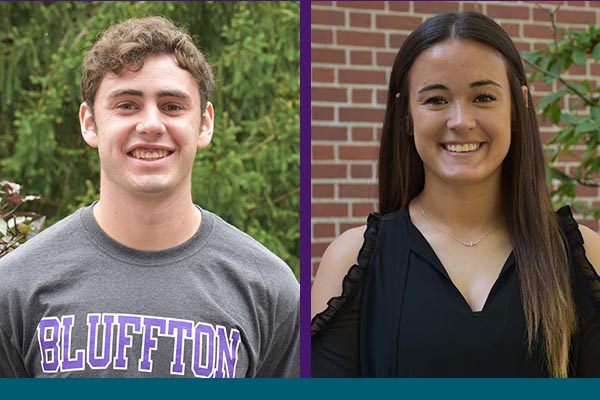 Bluffton athletes of the year
Bluffton University is recognizing standout senior athletes in men's and women's soccer as the 2021 athletes of the year.
Patrick Spillman of Anderson, Ind., received the 2021 A.C. Burcky Award as outstanding senior male athlete of the year.
A four-year starter on the men's soccer team, Spillman played in 60 games, earned seven goals and made five assists during his college career despite being asked to play several positions. He is an Academic All-Heartland Collegiate Athletic Conference honoree and earned a Second Team Academic All-Ohio Award in 2019.
Off the field, Spillman is the treasurer of Bluffton's chapter of the Student-Athlete Advisory Committee, is a game-day commentator for Bluffton basketball and football and develops podcasts for Bluffton's student-driven media platform "The Wit." He serves as a student ambassador and works in Bluffton's business office.
"Pat leads naturally by example, never seeks nor is driven by personal recognition and is always prepared to put the welfare of the team above his own personal goals and objectives. In doing so, he sent a contagious message to his teammates that the 'team' came before the individual," said Robert Richardson, head men's soccer coach. "In my career as a collegiate coach, Pat is truly one of the most outstanding young men I have had the good fortune to work with."
The son of J.R. and Michelle Spillman, he is a business administration and sport management double major.
The Burcky Award is named for the late professor of physical education and coach who served Bluffton from 1922-68. A.C. Burcky was inducted into the NAIA Baseball Hall of Fame in 1962. In 1970, the A.C. Burcky addition to Founders Hall was dedicated in his honor.
Abigail Newkirk of New Vienna, Ohio, received the 2021 Kathryn E. Little Award as outstanding senior female athlete of the year.
Newkirk, a four-year letter winner for women's soccer, played in 54 games and was named an Academic All-Heartland Collegiate Athletic Conference honoree. Recruited as a forward, Newkirk transitioned to a defensive role for most of her Bluffton soccer career.
Off the field, Newkirk is president of Bluffton's chapter of the Student-Athlete Advisory Committee (SAAC) and is an HCAC executive council member. She is a primary member of National DIII SAAC as well as the communications director, Special Olympics subcommittee head and DIII Committee for Women's Athletics (CWA) representative. At the 2020 NCAA convention, she represented DIII athletes from HCAC and North Coast Athletic Conference.
Newkirk also serves as the president of Bluffton's chapter of the National Student Speech Language Hearing Association (NSSHLA) and works as a fitness center supervisor, student ambassador and baseball program office assistant
"Abby is a one-of-a-kind individual. She involves herself in so much both on the field and off the field, yet approaches everything with the utmost effort and determination. She is a leader and a true example of what it means to be a student-athlete," said Kevin Gregory, head women's soccer coach. "She's had a great impact on our campus community and will achieve great things in life."
The daughter of and Seth and Annette Hawthorn and Joshua Newkirk, she is a speech-language pathology and audiology major.
Newkirk's award is named for Kathryn Little, who served in Bluffton's health, physical education and recreation department and in athletics from 1958-74. Little was a member of the first class inducted into the Bluffton Athletics Hall of Fame.