Ambassador program
04/09/2021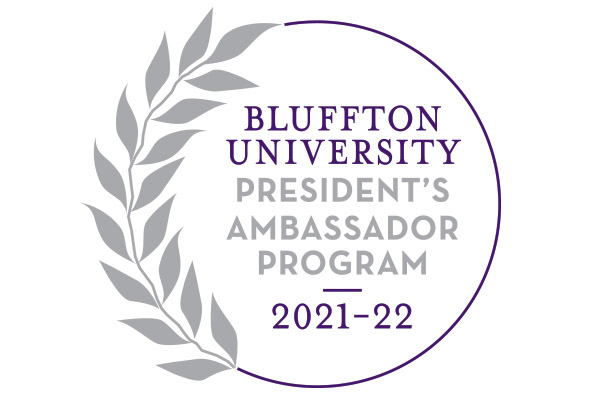 Students named to inaugural President's Ambassador Program
Starting in the 2021-22 academic year, Bluffton University will launch the President's Ambassador Program with a group of high-achieving students who will assist in recruiting prospective students, welcoming and greeting campus guests, and engaging alumni and donors.
Lead Ambassadors are upcoming seniors who were selected based on experience, participation and leadership in the previous student ambassador program.
The goal of the new program is to help students become extraordinary communicators and networkers. They will receive consistent leadership and professional development training. Where available, President's Ambassadors will have the opportunity to connect with local leaders and be trained on important topics such as etiquette, conversation skills, and networking and interview skills. They'll be partnered with a faculty/staff mentor and will also represent Bluffton University alongside President Jane Wood at external events.
"I am looking forward to closely working with all of these exceptional students next year," said Wood. "Each of them truly embodies what it means to be a Bluffton University student, and I know they will be excellent representatives for us."
The 2021-22 Lead Ambassadors are:
Evan Burden, Sidney, Ohio
Avery Carter, Bryan, Ohio
Emily Clawson, Troy, Ohio
Wayne Frey, Kirby, Ohio
Marissa Hall, Avon Lake, Ohio
Cassie Mladek, Coshocton, Ohio
The 2021-22 President's Ambassadors are:
Darius Boeke, Sidney, Ohio
Haley Byrnes, Columbus, Ohio
Stacey Chirewa, Zimbabwe
Nathaniel DeWeese, Hilliard, Ohio
Leslie Diaz Valdiviezo, Bluffton, Ohio
Carina DiMarco, Hartville, Ohio
Emily Dyson, Payne, Ohio
Jenia Freewalt, Delphos, Ohio
Risa Fukaya, Japan
Riley Garmatter, Rawson, Ohio
Noah Heiing, Delphos, Ohio
Jordan Jennings, Portsmouth, Ohio
Danielle King, Pettisville, Ohio
Jeremy Locklear, Lincoln Park, Mich.
Amy Marshall, Pickerington, Ohio
MacKenzie Martin, Hartville, Ohio
Caitlyn Renner, Lima, Ohio
Sarah Rivera Rios, Honduras
Payton Stephens, Dayton, Ohio
Grace Liechty Zickafoose, Lima, Ohio
Alejandra Valenzuela, Honduras
At Bluffton University, our sense of a greater purpose develops students of exceptional character and expansive vision. For 120 years we've been learning, experiencing and bettering the world together.
Located on a 65-acre residential campus in northwest Ohio and lined with abundant natural beauty, Bluffton University offers more than 80 majors, minors and programs for undergraduate students with nationally accredited programs in dietetics, education, music and social work. Bluffton also offers programs for working adults including degree-completion programs in accounting, business management and RN to BSN as well as graduate programs in business administration (MBA), education and organizational management.
Founded in 1899 and affiliated with Mennonite Church USA, Bluffton alumni are prepared for life. Ninety-nine percent of graduates are employed, in graduate school or completing long-term service within six months of graduation.