Global health class
04/03/2020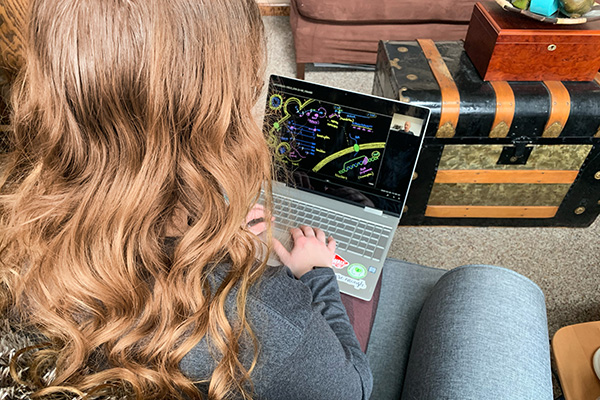 Nursing majors learn from American and Italian medical professionals on the frontlines of COVID-19 pandemic
Dr. Sherri Winegardner, director of nursing, routinely invites guest speakers to share about their experiences in the medical field with students in her classes. Recently, students in the Bluffton University's Global Health and Intercultural Care class had the opportunity to learn from three medical professionals on the front lines of the COVID-19 crisis—Dr. Will Krost, an emergency department physician at St. Vincent's Medical Center in Toledo, Ohio; Filippo Drage Laghi, an emergency room nurse in Ravenna, Italy; and Roberto D'Angelo, a registered nurse also in Ravenna, Italy, who works in the emergency transport system.
"It was a sobering discussion to say the least, but a unique situation with second-year nursing students at Bluffton connecting around the world via Zoom to one of the areas hardest hit by this pandemic."
Winegardner said, "The emphasis of this class is to look at health concepts from a global perspective, but in the past few weeks we have moved the focus solely to the global COVID-19 pandemic."
During the videoconference, Krost discussed the importance of stay-at-home orders, current treatment options being explored such as hydroxychloroquine and azithromycin, and the stress on medical professionals at this time. While sharing about the overwhelmed health care system in Italy, Laghi and D'Angelo underscored the devastating mental and physical toll of the outbreak.
"What shocked me most was their insight into some of the most common challenges that nurses and doctors are facing," said Kourtney Kretschmar, a sophomore nursing major from Greenville, Ohio. "Shifts are becoming longer, typical routines are gone, health care workers are just going day by day and they're afraid to pass the virus on to anyone else."
While not nearly as drastic, normal routines for the students have changed as well. Students are completing their classes and labs for the remainder of the semester at home through online learning programs, and clinical experiences in hospitals and medical facilities were canceled. The Ohio Board of Nursing issued a statement that there will be no penalties to a program due to the interruption of planned clinical activities.
"These times are difficult for everyone. Some are separated from their families, some have lost their jobs, and so many are risking their lives and health every day to treat this virus and flatten the curve," said Leksi Carpenter, a sophomore nursing major from Delphos, Ohio. "This is a problem that the entire world has to get through together, and we all need to be mindful of each other."
For Winegardner, changing her lesson plan to focus on the pandemic was necessary for a variety of reasons: so students are aware of the potential of pandemics, so they understand how contagion occurs and impacts populations, and so they are conscious of the importance of their roles as caregivers during times of extreme need.
"Most of us, even adults, have not had exposure to a pandemic in our lifetime, let alone one caused by a novel virus impacting the globe so significantly," said Winegardner. "In my 30-plus-year career, the only prior pandemic I was exposed to was the H1N1 swine flu. While the disease did kill many Americans and others worldwide, the changes to our daily life were minimal. Most of our students are too young to remember it at all."
Winegardner said her class goal is to expand her students' knowledge through contact with professionals on the frontlines so they are better prepared to work in similar situations should they be confronted. While the situation for medical professionals is uncertain and scary at this time, Caleb Nesbit, a sophomore from Deatsville, Ala., said this situation has strengthened his resolve to continue with a nursing major.
"My thoughts on entering the medical field have not changed," explained Nesbit. "I want to help people and support them whenever they need it."