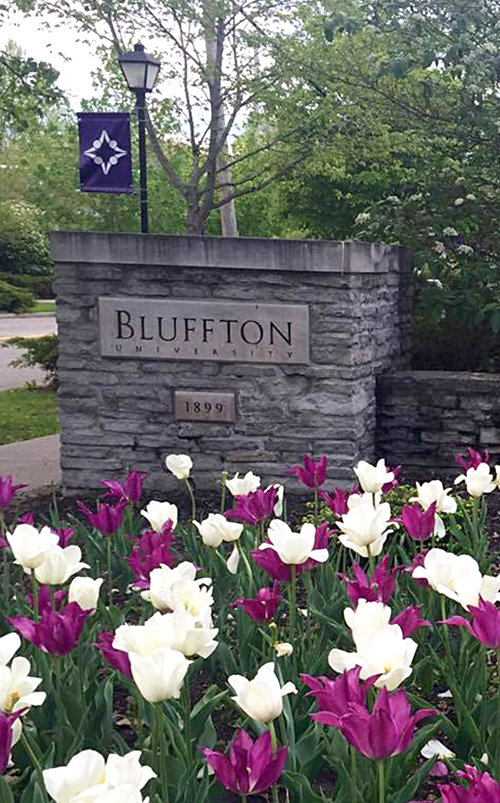 Annual giving manager
Full time, 12-months
The following statements are intended to describe the general nature and level of work being performed. They are not intended to be construed as an exhaustive list of all responsibilities, duties, and skills required of personnel so classified.
POSITION SUMMARY:
The Annual Giving Manager has responsibility to further the mission and strategic plan of Bluffton University by strengthening relationships with students, alumni and friends of Bluffton through meaningful direct mail solicitations, social media campaigns and management of the President's Society. Responsible for growing, renewing and upgrading member support, and strengthening relationships with current donors below the major donor level. Accountable for meeting annual donation goals for donors who contribute less than $5,000 annually.


ESSENTIAL DUTIES AND RESPONSIBILITIES:
Annual Giving

Develop and implement an annual campaign strategy to invite gifts of $1-$5,000 for unrestricted annual operations. Manage strategy for special annual giving initiatives like Arts at Bluffton, TEAM Bluffton, President's Society, etc.
Communicate the goals of the annual fund programs to development and public relations staff and the opportunities for collaboration in the implementation of each program.
Analyze strengths, weaknesses and outcomes of annual giving campaigns and programs.
Serve as liaison between academic departments, development and public relations on the production of Arts at Bluffton campaign; serve as hostess for donor reception(s) as needed.
Serve as liaison between athletics department, development and public relations to communicate solicitation plan for TEAM Bluffton fundraisers; support annual Golf Outing event as needed.
Implement annual President's Society solicitation strategy and support development officers and President's Office with moves management updates to grow membership base.
Manage annual recognition program for consecutive year giving and lifetime giving societies. Support alumni manager with planning for annual President's Society banquet.
Continually research best practices in annual fund programs and evaluate which practices make a good fit with Bluffton.
Maintain a small portfolio of donors including some faculty and staff.


OCCASIONAL DUTIES AND RESPONSIBILITIES:
Other tasks as assigned (or approved of) by vice president of advancement, such as:
Serve as gift entry back-up support to donor relations manager.
Support alumni relations/marketing manager in event planning and delivery of on campus and off campus events.


QUALIFICATION REQUIREMENTS:
The requirements listed below are representative of the knowledge, skill, and/or ability required to satisfactorily perform the essential duties of this job.

Excellent communications skills, ability to express the vision and mission of Bluffton University in spoken and written word.

Ability to work harmoniously with people at all levels of an organization.

Comfortable interacting with public and inviting individuals to contribute monetary gifts to the university.

Self-motivated and organized with ability to handle multiple projects, work on deadline, and communicate effectively with others.

Proficiency with Word and Excel spreadsheet functions.

Ability to enter accurate data into CRM and perform accurate data analysis to assess strategy outcomes.

Strong attention to detail, ability to maintain confidentiality and contribute to a positive work environment.
Education and/or Experience:
Bachelor's degree is required.

Prior experience in fund-raising and/or event planning and constituent relations a plus.


PHYSICAL DEMANDS / WORK ENVIRONMENT:
Typical office conditions with daily computer work.
Some travel to conferences and donor events.
Occasional evening and weekend attendance at events required.
Ability to drive an automobile and possess valid driver's license


APPLICATION MATERIALS:
Applications are considered complete when the following materials are received at the office indicated below:
Send application materials to:
Robin Bowlus
Vice president of advancement and enrollment management
Bluffton University
1 University Drive
Bluffton, OH 45817-2104