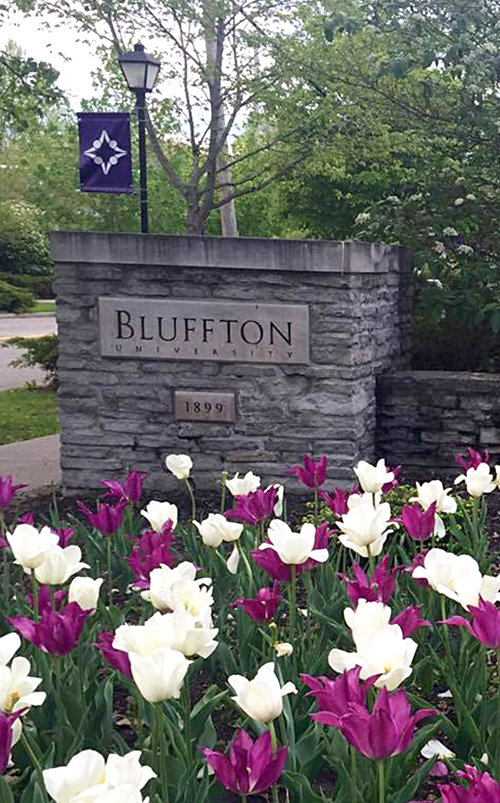 Data specialist
Data specialist for advancement and enrollment division
Full time, 12-months
The following statements are intended to describe the general nature and level of work being performed. They are not intended to be construed as an exhaustive list of all responsibilities, duties, and skills required of personnel so classified.
POSITION SUMMARY:
The data specialist works closely with the vice president of advancement and enrollment management (VP) to further the mission and goals of Bluffton University through exemplary advancement and enrollment practices including daily management of Salesforce CRM integration with Jenzabar for enhanced work flows for admissions and development staff, use data to support and implement communication/fundraising strategies, and provide data analytics for decision making. Works closely with staff to support the admissions counselors and development/alumni staff in daily work flows. Serves as secondary support to Bluffton.edu (web site) and supports university PR office and IT staff projects as needed.
ESSENTIAL DUTIES AND RESPONSIBILITIES:
CRM: Jenzabar and Salesforce integration:
Serve as a university Jenzabar representative (part of a team of people across campus).
Manage and maintain admissions CRM (Salesforce) for enhanced work flows in admissions office.
Build Salesforce integration into development office work flows.
Provide oversight and support in the routine and strategic use of JRM and its interface with other software programs in order to enable report building, work and communications flow programming and data analytics.
Create reports/dashboards for the admissions office and development office functions.
Monitor licenses for Jenzabar and Salesforce and various systems used by admissions and development office
Admissions marketing communication flow:

Execute admissions marketing communication plan/strategy as directed by the recruiting plans in both undergraduate and adult and graduate studies admissions.

Coordinate and deliver print mass mailings and serve as back up for sending email campaigns.

Work collaboratively with the public relations office for production of all creative materials.

Direct responsibility to manage virtual tour partnership (EAB).
Training:
Responsible for both initial and ongoing training all JRM and Salesforce users to include but not limited to admissions staff, financial aid staff, coaches, faculty recruiters and development staff.

Maintain Mac computer in PR office

Assist the VP in developing strategies for Bluffton's enrollment and advancement programs to support the university's multi-year strategic objectives.

Miscellaneous:
Supervision: Responsible for supervising the work of 8-12 student interns; hire, train, monitor hours and supervise ongoing work.

Send monthly reports on vacation, sick and personal time for salaried staff in enrollment division

Upkeep of printer-copiers and Com Doc liaison (Admissions copiers, office paper, toner, ink, etc.)

Monitor admissions office supplies and put in orders to Office Depot for enrollment

SECONDARY RESPONSIBILITIES:
Other tasks as assigned by supervisor.
Serve as secondary support to content management of Bluffton.edu web site.
Serve on special task projects to support university IT staff
Participate in ongoing professional development activities as relevant, to maintain and enhance his/her skills and abilities, and to advance Bluffton's priorities.
PROFESSIONAL LEARNING AND GROWTH AREAS:
Discovery: Demonstrates both job and professional knowledge, and continuously learns.
Community: Actively collaborates, applies teamwork principles and communicates effectively.
Respect: Values differences, works at resolving conflict, shows respect and builds trust.
Service: Achieves needed results; quality and quantity. Takes responsibility, is dependable, and can manages multiple tasks effectively.
QUALIFICATION REQUIREMENTS:
The requirements listed below are representative of the knowledge, skill and/or ability required to satisfactorily perform the essential duties of this job.

Minimum:
Education/certification: Bachelor's degree in IT or computer science from an accredited school
Experience: Entry level position; experience in working as part of a high performing team; sales and customer service skills; exposer to data bases, CRMs and web site content management system.
Skill/abilities: Excellent communications and organizational skills, ability to express the vision and mission of Bluffton University in spoken and written word. Ability to work effectively with colleagues at all levels of an organization, i.e. senior leaders. Ability to manage multiple projects, work on deadline and achieve results. Ability to think strategically and to implement and manage change.
Diversity & Faith Commitment: Bluffton University expects all employees to show respect in the workplace and not to base business decisions on race, color, national origin, ancestry, sex, age, disability, marital status, sexual orientation, gender identity or any other status protected by law. As a religious institution, Bluffton University welcomes its faculty and staff and encourages respectful consideration of the Christian faith which is consistent with the Mennonite/Anabaptist beliefs of the university's founding and supporting church.
Preferred:
Experience: 3 years experience in education/higher education or direct sales. Experience managing data bases and building connections to third party platforms for enhanced work flow; certificates in Salesforce, Jenzabar or OmniUpdate.
Skill/Abilities: Ability to support and motivate a high performing team. Knowledge of broad scope of higher education admissions and development office, including best practices.
PHYSICAL DEMANDS / WORK ENVIRONMENT:
The physical demands and/or work environment encountered by the employee while performing the essential responsibilities of this job must be met with or without reasonable accommodations. Reasonable accommodations will be considered and implemented when possible to enable individuals with disabilities to perform the essential responsibilities of this position.
Typical office conditions. Some lifting of boxes weighing more than 15 pounds.
Travel includes regular regional auto travel and occasional overnight (with air travel). Ability to drive with a valid driver's license.
APPLICATION MATERIALS:
Applications are considered complete when the following materials are received at the office indicated below:
Send application materials to:
bowlusr@bluffton.edu
Attn: Robin Bowlus
Vice president for enrollment management
Bluffton University
1 University Drive
Bluffton, OH 45817-2104
Employment decisions are based on merit and university needs, and not on race, color, national origin, ancestry, sex, age, disability, marital status, sexual orientation, gender identity or any other status protected by law. As a religious institution, Bluffton University expressly reserves its rights to appoint faculty and staff who share a commitment to the Christian faith which is consistent with the Mennonite/Anabaptist beliefs of the university's founding and supporting church. EOE.