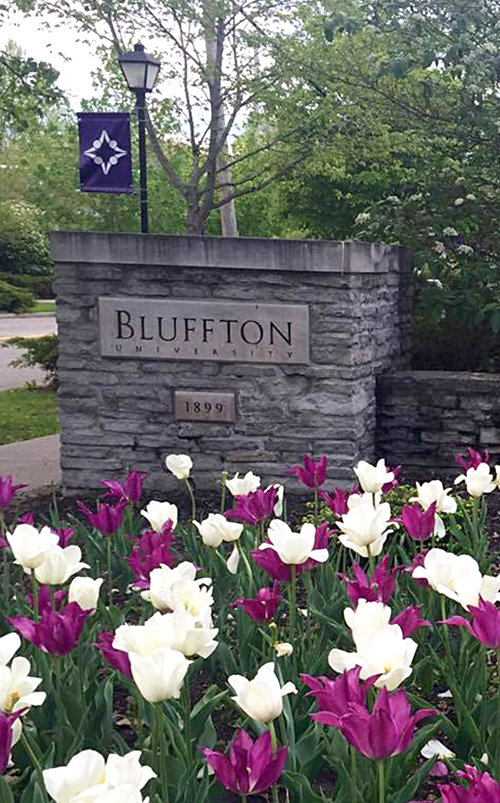 Center for Career and Vocation
Graduate Assistant
in the Center for Career and Vocation
Part-time, 20 hours/week, occasional evening or weekend hours
10 month position (August-May)
QUALIFICATIONS:
Interest in career development and vocational discernment required; three years of work experience preferred (one year or equivalent required). Examples of typical backgrounds/interest areas include: liberal arts, human resources, recruiting, entrepreneurship, communication, marketing, education, counseling, event planning and promotion, non-profit leadership, volunteer management and student development.
RESPONSIBILITIES:
Assists the director of the center for career and vocation in providing professional development and career readiness resources to Bluffton students and alumni.
Engages students and alumni around questions of vocation: purpose, meaning and calling.
Maintains the center's centralized data base, College Central Network, including the development of new modules and the expansion/refinement of existing functionality.
Cultivates relationships with employers and other organizations, including non-profit and graduate school partners.
Plans, promotes and evaluates CCV events, including evening and off-site events.
Relates to both Academic Affairs and Student Life, developing broad on-campus networks with these and other Bluffton colleagues.
Maintains the social media presence for the center, especially focusing on Facebook and Twitter.
Shares in supervision of, and provides training for, undergraduate student interns
Occasionally makes presentations and leads workshops in classroom and other campus settings.
Supervising students
Supervise student employees to include training, planning, assigning and directing work, coaching, addressing complaints and resolving problems.
Must have a mindset of mentoring employees under supervision. Should be able to lead in a way that sets a good example, promotes teamwork and encourages a positive, efficient work environment.
DEPARTMENTAL MISSION STATEMENT:
Led by our seven guiding principles, the Center for Career and Vocation equips students and alumni to be career ready and purpose led.

Seven guiding principles:
Influenced by Appreciative, Developmental and Happenstance models of career development:
We start with the student (or job-seeker) in mind.
We take a strengths-based/asset-based approach.
We create synergy through on-campus and off-campus partnerships.
We balance goal setting and backward planning with the development of resiliency and hopefulness for an uncertain future.
We remain data-Informed while acknowledging the value of un-measureable things.
We seek streamlined systems and sustainable practices.
We model the commitment to life-long learning we envision for our students.
DEGREE OBTAINED:
Master of Business Administration (MBA), Master of Arts in Organizational Management (MAOM) or Master of Arts in Education (MAED)
Compensation:
Full tuition waiver with competitive stipend and room and board for those interested in living on campus.

Appointment:
August 1 through May 31 (work agreement ends with commencement the second year).
Deadline:
Priority deadline is April 30. Consideration of applications will begin at this time and continue until position is filled
APPLICATION MATERIALS:
Both applications need to be completed for full consideration. Applications are considered complete when all of the following materials have been submitted:
Bluffton University Graduate Program
Bluffton University employment requirements
Send employment application materials to:
Shari Ayers
Center for Career and Vocation
Bluffton University
1 University Drive
Bluffton, OH 45817-2104
Employment decisions are based on merit and university needs, and not on race, color, national origin, ancestry, sex, age, disability, marital status, sexual orientation, gender identity or any other status protected by law. As a religious institution, Bluffton University expressly reserves its rights to appoint faculty and staff who share a commitment to the Christian faith which is consistent with the Mennonite/Anabaptist beliefs of the university's founding and supporting church. EOE.