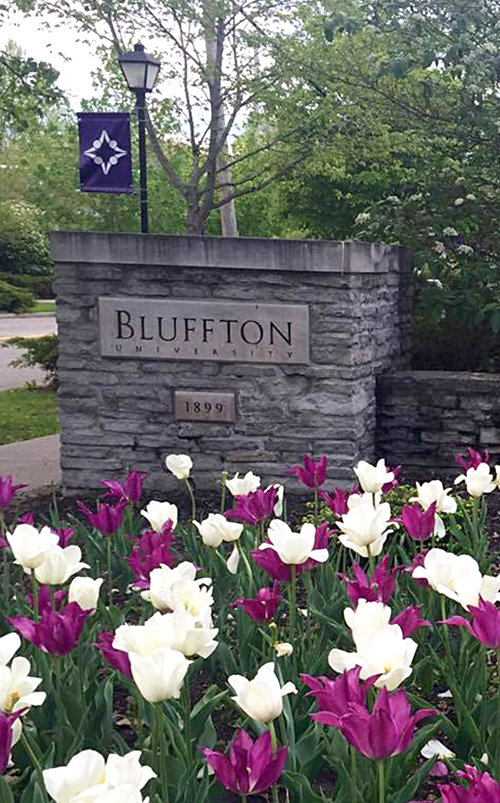 VP Enrollment Management
Bluffton University (Bluffton, Ohio) invites applications and nominations for the vice president for enrollment management position. This is an exciting opportunity for an experienced enrollment management professional with a proven track record of success to creatively and strategically develop and execute a plan to positively impact sustainable enrollment growth consistent with the goals, mission and resources of Bluffton University.
Founded in 1899, and grounded in the Mennonite values of peacemaking and service, Bluffton University is a vibrant, student-centered residential liberal arts institution enrolling slightly less than 1,000 undergraduate and graduate students. The University is strongly committed to its core values - discovery, community, respect and service. Under the leadership of President Jane Wood beginning in July 2018, the University community is committed to building on the substantial and outstanding academic programs already in place and to building new and innovative programs that will provide sustainable bridges to the future. An unwavering focus on sustainable enrollment growth and student development; a commitment to planning, implementation and continuous improvement; and the strategic cultivation, management and investment of resources are top priorities of President Wood.
The village of Bluffton is a progressive Midwestern town located in northwest, Ohio. It is midway between Lima and Findlay, (OH) and is easily accessible to Columbus, Cleveland, and Toledo, (OH), Fort Wayne (IN) and Detroit (MI). The school system is consistently ranked as excellent by the state of Ohio. Bluffton is a safe and peaceful place where neighbors on and off campus respect, support and look out for one another.
POSITION SUMMARY:
The Vice President for Enrollment Management (VPEM) oversees all aspects of the admissions and financial aid operations and is responsible for providing leadership and coordination for a comprehensive enrollment management strategy that is consistent with the goals, mission, and resources of Bluffton University. The Vice President is responsible for developing, implementing, and overseeing the execution of an annual comprehensive enrollment plan with appropriate goals that include strategies to recruit, enroll and retain students for the University's traditional undergraduate and graduate programs. Additionally, the VPEM is responsible for developing annual admissions and financial aid budgets; building, leading and motivating the appropriate teams to ensure that enrollment goals are met; implementing an integrated marketing and communication plan in partnership with the marketing and communications division and Bluffton's University's leadership team; and collaborating with faculty and others to achieve academic program department enrollment goals. In addition to internal constituents, the vice president for enrollment management is expected to work collaboratively and constructively with external partners including vendors and consultants under contract within Enrollment Management.
The Vice President reports to the President and serves on the President's senior leadership team. The VPEM works closely with the President, Vice President for Academic Affairs, Vice President for Student Affairs, Director of Athletics and other senior leaders to provide appropriate direction on enrollment management matters. Current direct reports to the vice president of enrollment management include the director of admissions and the director of financial aid. The VPEM sits as an equal member of the Integrated Marketing team with primary focus on enrollment marketing.
QUALIFICATION REQUIREMENTS:
A Bachelor's degree (Master's preferred) and a minimum of eight years of progressive experience and leadership in enrollment management is required. The Vice President for Enrollment Management must be a highly efficient, effective, and results-oriented individual with strong business acumen, proven ability to motivate and lead a team, and knowledge of best practices and current trends in the enrollment field. Data informed decision making, an understanding of branding and marketing strategies and tactics specifically applicable to student recruitment in the digital market place is expected. The successful candidate will be a visionary and a strategic thinker. The position requires a high level of understanding of analytics, and familiarity with a social media suite, strong connotative skills and the ability to analyze issues critically. The ideal candidate also will demonstrate excellent communication skills, outstanding integrity, effective leadership and team building skills. Experience in collaborating effectively with athletic coaches in the recruitment of students, managing student information systems, budget oversight, financial aid and leveraging, and the ability to collaborate effectively with internal and external constituents will be important factors in the selection of the new Vice President for Enrollment Management.
APPLICATION AND NOMINATION:
Review of applications begins October 29, 2018. Interested candidates should apply for this position online via the Williams & Company website at: www.williamscompany.net.
Confidential inquiries and/or nominations may be directed to Martha Smiles at:
Martha@williamscompany.net or (802) 497-0151.
Employment decisions are based on merit and university needs, and not on race, color, national origin, ancestry, sex, age, disability, marital status, sexual orientation, gender identity or any other status protected by law. As a religious institution, Bluffton University expressly reserves its rights to appoint faculty and staff who share a commitment to the Christian faith which is consistent with the Mennonite/Anabaptist beliefs of the university's founding and supporting church. EOE.