Hands-on learning
On-campus student opportunities
The Witmarsum

The Witmarsum represents the student-driven media at Bluffton University. BlufftonWit.com features student-produced news and feature stories. Paid positions are available working with the Witmarsum.
Read BlufftonWit.com >

---

96.1 THE WIT FM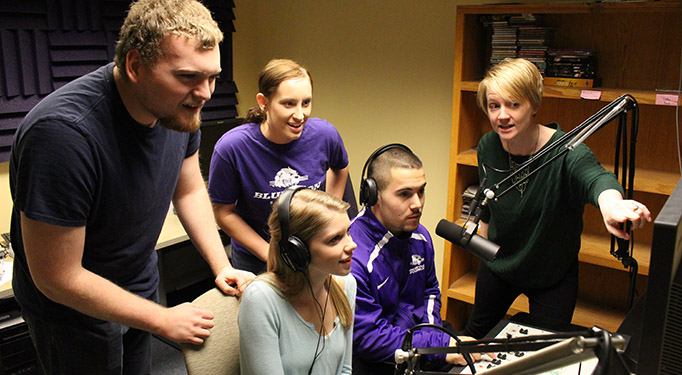 96.1 The Wit is the radio extension of Bluffton's fully converged student media organization. Listen in the car or residence hall, or download the app to stream through your mobile device. Live on air, 96.1 The Wit features alternative rock programming and can be heard in an approximate 20-mile radius of Bluffton. Listen to The Wit FM >
---
Be the voice of Beaver athletics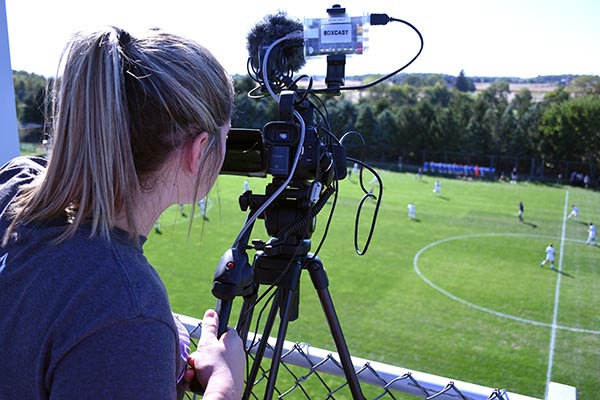 96.1 FM WBWH and The Witmarsum cover all Bluffton University sports, through written articles, posted videos and live broadcasts.
---

C. Henry Smith Peace Oratorical Contest

The annual C. Henry Smith Peace Oratorical Contest provides the opportunity to compose and deliver a speech that applies Christian principles of peacemaking to contemporary social issues. The winner of the Bluffton competition advances to compete with winners from other Mennonite-related colleges and universities.
More about the oratorical contest >
---

Theatre

Opportunities, including acting, directing, design and stage management, are available through the theatre program.
Traditionally, a drama or comedy is performed annually in the fall and a musical in the spring. On occasion, an evening of student-directed one-acts are presented.
More about theatre >
---

Campus job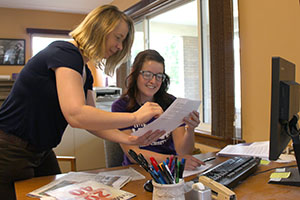 "My job in the PR house has given me so many useful and practical experiences. It's an on-campus job that is flexible with my academic schedule. The most odd - yet exciting - thing I did at work was during graduation, when my boss and I found a bird flying around the gym prior to commencement. It was fun and insightful to see how Bluffton faculty problem solved, and I was able to "take notes" from that. It directly connected me to my major because I am a PR major. I am given the opportunity to directly apply skills learned in class to my work, and concepts I learn at work to my classes and projects."
- Claire Clay
---

Internships
An internship program provides job-preparation experience at a variety of communication-related firms, including public relations departments, newspaper publishers, radio and television stations and church institutions.
As a communication and media major, you will be encouraged to use your communication skills in a broad range of student activities and campus leadership opportunities.