Communication and theatre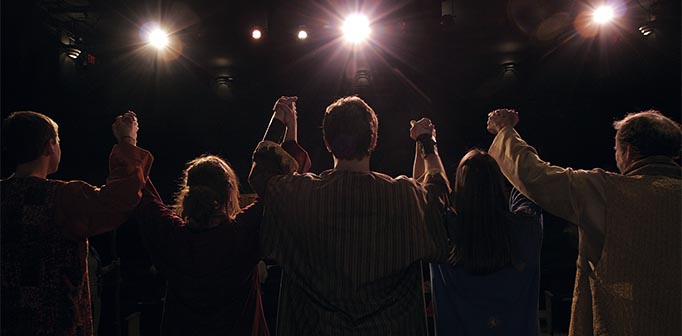 We live in an age of unprecedented change in human communication. Such change brings much possibility and some risk for humanity and its constituent human communities. The communication and theatre department takes as its task the education and training of Bluffton University students towards rigorous understanding, thoughtful production and ethical critique of human communication in this promising yet daunting context.
The mission of the communication and theatre department is to mentor and inspire students with communication theory and performance practices to serve diverse audiences by speaking the truth in love.
Further, the communication and theatre department seeks to:
Inspire broad and deep understanding of human communication through an integrated curriculum that explores how human beings have, can, and may improve their own and their communities' quality of life through communication;
Develop knowledge and skills in performative, written and nonverbal communication in a variety of contexts;
Explore the limits and possibilities of human communication through changing media platforms;
Encourage integrity and ethical engagement with diverse audiences; and
Instill standards of excellence in professional contexts.
The communication and theatre department offers one major: communication and media ; and six minors: church communication, communication, journalism, media studies, public relations and theatre.
Communication and media major
(45 hours)
The communication and theatre department offers a major in communication and media that provides a broad foundation for students interested in graduate study or professional vocations. The major offers instruction in rhetoric, interpersonal and organizational communication, and media, performance and cultural studies. More advanced courses help students to become critical thinkers within the discipline through focused study of theory, criticism and ethics. The major also prepares communication professionals to produce and manage compelling, ethical, and persuasive content across multiple platforms, including print, radio, the Internet, television, social media, and other digital and interactive platforms. With excellent grounding in aesthetics, technical skills, communication theory and journalism in a digital age, our students will be well equipped as professional storytellers in a converging media environment.
Minors
Church Communication minor
(22 hours)
Required:
MED 225 Writing for the Media (3)
or MED 277 Public Relations (3)
COM 270 Religious Communication (3) satisfies Speaking and Listening competency
COM 275 Organization Communication (3)
REL 273 Christian Theology (3)
or REL 274 Christian Ethics (3) satisfies Religious Understanding Competency
REL 322 Methods of Biblical Interpretation (2)
REL 334 Foundations of Christian Ministry (3)
REL 275 History of Christianity (3)
or REL 359 Mennonite History and Thought (3)
Communication minor
(20 hours)
Students cannot major in communication and media with this minor. The communication minor enables a student to explore an interest in communication while majoring in another academic discipline.
Required:
COM 101 Orientation to Communication (1)
COM 195 Interpersonal Communication (3) satisfies Speaking and Listening competency
COM 212 Argumentation and Advocacy (3)
MED 225 Writing for the Media (3)
COM 270 Religious Communication (3) satisfies Speaking and Listening competency
COM 275 Organizational Communication (3)
COM 300 Gender and Communication (3) satisfies Understanding Self and Society competency
or MED 352 Gender, Race and Media (3)
One hour from the following:
COM 110 Theatre Activity (0.5)
COM 116 Oratory Activity (0.5)
MED 226 Media Production Practicum (1)


Journalism minor
(19 hours)
Required:
ART 242 Digital Photography (3)
COM 101 Orientation to Communication (1)
MED 226 Media Production Practicum (1 x 4 = 4)
MED 225 Writing for the Media (3)
MED 242 Social Media (2) satisfies Living Well Competency
MED 375 Advanced Media Writing (3)
ENG 205 Creative Writing: Nonfiction (3) satisfies Creative Expression Competency
or ENG 207 Professional and Technical Writing (3)


Media Studies minor
(19 hours)
Students cannot major in communication and media with this minor.

Required:
COM 101 Orientation to Communication (1)
MED 226 Media Production Practicum (1)
MED 230 Studies in Cinema (3)
MED 240 Media and Culture (3) satisfies Understanding Self and Society Competency
MED 242 Social Media (2) satisfies Living Well Competency
MED 277 Public Relations (3)
MED 352 Gender, Race and Media (3)
MED 415 Television Criticism (3)

Electives (3 hours):
Any additional COM course 200 level or higher


Public Relations minor
(21 hours)
Required:
ART 245 Intro to Computer Graphic Design (3)
COM 101 Orientation to Communication (1)
MED 225 Writing for the Media (3)
MED 242 Social Media (2) satisfies Living Well competency
MED 277 Public Relations (3)
MED 375 Advanced Media Writing (3)
MKT 362 Advertising (3)
COM 380 Digital Campaign Analytics (3)
MKT 356 Principles of Marketing (3)
Theatre minor
(19 hours)
The theatre minor enables a student to explore an interest in dramatic arts while majoring in another academic discipline. The minor is made up of the following courses:
Required:
COM 110 Theatre Activity (1)
ENG 367 Shakespeare (3)
THE 135 Introduction to Theatre (3) satisfies Creative Expression Competency
THE 201 Play Production (3)
THE 257 Performance Studies (3)
THE 302 Play Direction (3)
Electives: (3 hours selected from the following)
THE 136 Theatre for Social Change (3)
THE 250 Special Topics in Theatre (3)
THE 224 Drama in Education (3)
THE 258 Acting (3)
THE 326 History of Theatre (3)
June 2022