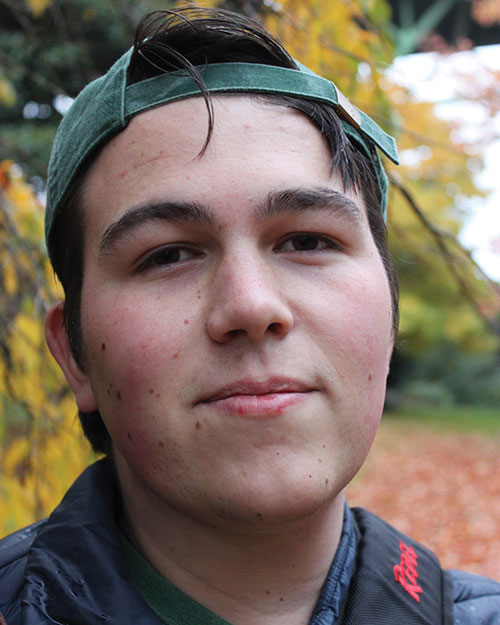 Nicholas Barnes
---
Nicholas Barnes earned a Bachelor of Arts in English at Southern Oregon University. He is currently working as an editor in Portland and enjoys music, museums, movie theaters and rain. His poems have recently been accepted by "Barzakh," "Something Involving A Mailbox!" and "BEATIFIC."
Green Flash
by Nicholas Barnes
I:
Film negative,
the kind with
two black borders:
one above, one below.
In the middle there,
see what the celluloid saw
before abandoning those waters.
Forsaken ripples held captive
by another light.
Flame to an easter egg,
pastel musings,
sand is in the sky.
Shadows fly,
soaring above seven
seas, emerging.
A tsunami rises from
the hazy blaze mirage,
casting trees and goliath
into mercury, foot by foot,
until even twin smokestacks
call out from beneath the waves.
Please know, it won't be long.
II:
Hear that?
No, it isn't the birds winging.
And it sure isn't the factory
letting them know:
closing time.
It is a moon-crafted melody;
the white keys of her face
played like craters.
And the sharp and flat
midnight, blacksheep, dark keys,
played like the night sky:
always empty, always cold.
Dive in, and listen.
get water in your eyes
and ears, and hear
those sonar frequencies,
just like the whales
and dolphins.
Moon plays her
ritual requiem
every night for Sun,
for yesterday.
Her fingers break the surface
and touch your mind,
swimming with fishes,
sending you to a new abyss,
just as dark, just as cold,
with a song the
Sun would have loved:
bright and cold,
warm and dark:
Your body has stopped shivering,
and the light has gone over
the horizon, or ...
the hill.
The casket is being lowered
down, down
down,
down,
stop.
Undertaker has taken
her crescent spade,
covered you [orange,
umber, amber, auburn,]
with black and white scenes:
soil rich with iron,
full of hydrogen, oxygen,
carbon, helium stars,
and Nothing.