---
Bluffton Bread Company provides hands-on exerience for students from several majors.
Bluffton Bread Company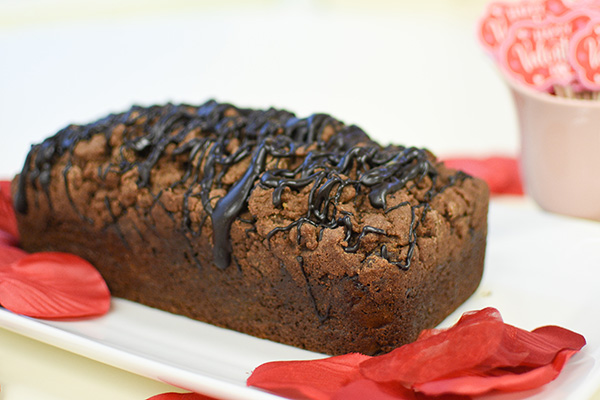 Slice. Share. Celebrate.
Today, our students are learning through experience. From dietetics majors perfecting the recipes with wholesome ingredients to our business students developing marketing and business plans, Bluffton Bread Company is an example of the great things happening at Bluffton under the guidance of our expert professors.
A limited number of specialty loaves will be available to purchase for Christmas and Mother's Day meals and gifts. Bread will be baked by select Bluffton University Food and Nutrition students and mailed fresh to your door. Once they are sold out, they are sold out.
Cash and carry valentine's special
The decadent Triple Chocolate Bread will be available cash and carry in early February at Roots by Strattons, 111 S. Main St., Bluffton.
Triple Chocolate Bread will be sold 5-8 p.m. Thursday, Feb. 6, as part of the Bluffton Area Chamber of Commerce Chocolate Walk.
Both the chocolate and Asiago Cheddar Bread will be available 9 a.m.-noon on Saturday, Feb. 8.
Online orders will be accepted for Mother's Day. Sign up to receive email notification about when sales open.
Perfect for the chocolate lover in your life (even if that is you), this bread features a chocolate base filled with chocolate chips. For a truly decadent touch, we added a cookie crumble topping drizzled with chocolate ganache. It's so rich, this bread could be the death of you, but in reality, the triple chocolate bread gives you life.
A savory choice, our asiago cheddar bread combines the richness of asiago and cheddar cheeses with a hint of buttermilk. Literally packed to the brim with cheese, this loaf is surrounded by a crust of parmesan and cheddar. Sprinkled with a dash of cayenne, we promise this bread is not too spicy, but instead will be a showstopper at any event. Ingredient list
Thank you for supporting Bluffton Bread Company. Due to the nature of our business and products we sell, all sales are final. Please contact Bluffton Bread Company at blufftonbread@bluffton.edu with any concerns about your order.
email me when orders will be accepted.
Bluffton Bread Company will be open for business just a few times a year. Online orders will be accepted for Christmas and Mother's Day.
Want to be in the know for when bread will be baking? Sign up to receive an email notice so you can be sure to get the loaf (loaves) of your favorite bread!
For more information, please contact Jeanna Haggard, assistant professor of food and nutrition, at blufftonbread@bluffton.edu.