Student-run business
02/03/2023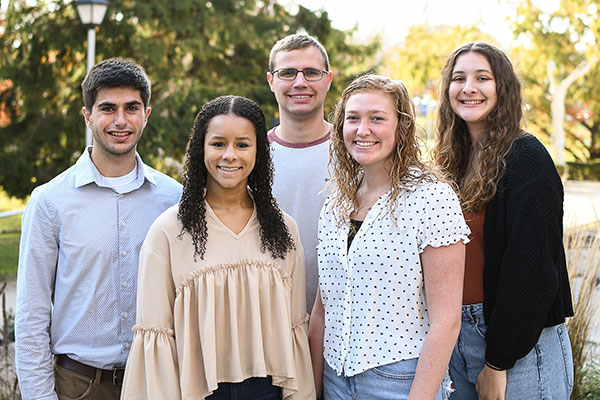 Putting classroom learning into practice
From developing and standardizing recipes to streamlining the online shopping cart, Bluffton University students are gaining hands-on learning experiences through the Bluffton Bread Company. Five students are currently serving on the student advisory board for the student-run business.
Madeline Kidd, a nutrition and dietetics major from Middletown, Ohio, acts as a manager for the business with oversight for production and operations.
"The Bluffton Bread Company gave me the opportunity to demonstrate and highlight my leadership skills and talents," said Kidd. "This experience has provided all of us with the opportunity to serve our community in an unexpected yet rewarding way."
Meredith Obringer, a nutrition and dietetics major from Tiffin, Ohio, serves as a lead baker and is responsible for inventory, packaging and sales.
"From this experience I have learned many valuable lessons on leadership and production management," said Obringer. "I learned what it's like to experience challenges and how to overcome them as a team. It has been a very difficult but rewarding task that has also set me up for success in my future career as a dietitian."
Hannah Plesac, a nutrition and dietetics major from Galion, Ohio, does a lot of baking for the business as well as packaging.
"The Bluffton Bread company has been a great opportunity to work with other students and learn how to run a small business," said Plesac. "Now I know how much effort and time really goes into a business!"
Jacob Boelkens, an accounting and business administration double major from Millbury, Ohio, is responsible for expenses, sales and maintaining accounts.
"Since working for the Bluffton Bread Company, I have been able to apply my classroom knowledge to a real-world setting," said Boelkens. "Whether it's using our system of QuickBooks or even making updates to the website, what I've learned in the classroom has helped prepare me for this experience."
Eli Grieser, a business administration and marketing double major from Wauseon, Ohio, is responsible for marketing and customer relations.
"Skills and lessons I gained from the Bluffton Bread Company include the ability to run a website while also being able to professionally run the Bluffton Bread Company email by responding to customers," said Grieser. "An experience I didn't expect to learn was how important it is to be organized, especially during the holidays, by ensuring all orders are correct. A tiny mistake can affect the whole process."
Started in 2019, the Bluffton Bread Company provides students with practical experience with the benefit of mentorship by Bluffton's expert faculty.
"We're always looking for ways to take classroom learning and put it into practice," said Brienne Sprunger, assistant professor of marketing and Bluffton Bread Company advisor. "This is a unique way to provide small-business experience right on campus."
Online sales at https://shop.blufftonbreadcompany.com are taken Sunday through Tuesday of each week with bread freshly baked for pickup or shipping the following Friday.