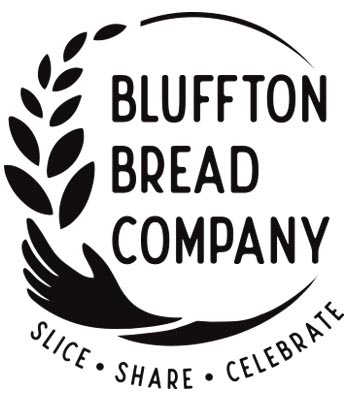 ---
Bluffton Bread Company provides hands-on experience for students from several majors.
Bluffton Bread Company
The Bluffton Bread Company will be heating up the ovens for Mother's Day for cash/carry and to ship. Featured loaves are Lemon Blueberry, Asiago Cheddar and Herb Parmesan.
Slice. Share. Celebrate.
Developed using vintage recipes (with a modern twist), we hope this bread awakens warm memories and helps you cultivate new traditions. Join us as you slice into a flavor made to brighten your day, share with family and friends, and celebrate all that is good in this world.
Through the Bluffton Bread Company, Bluffton students are learning through experience. Bread will be baked by students and mailed fresh to your door. On occasion, Bluffton Bread will be sold at a local business in Bluffton.
Sales
Cash and carry
Bluffton Bread is available on occasion at Roots by Strattons in Bluffton. Sign up for email notification of when bread will again be available.
Online sales
Bluffton Bread Company's online shopping cart will reopen in the fall. Stay in the know for when online sales will again be accepted.
Previous featured breads
Lemon Blueberry
Nothing welcomes the long-awaited spring season like the flavor combination of lemon and blueberries. Our lemon blueberry bread was developed using old fashioned pound cake recipes with a modern twist—a decadent crumb topping and lemon glaze. Let your mother know just how special she truly is with this limited Mother's Day treat.
Herbed Parmesan
This yeast, pull-apart bread features high-quality butter, shaved parmesan cheese, and the classic spices of parsley, basil and oregano. All combined, the ingredients form a soft cheesy center with a buttery crunch on the crust. Herbed parmesan is the perfect choice for sharing at your next family dinner table.
Asiago Cheddar
A savory choice, our asiago cheddar bread combines the richness of asiago and cheddar cheeses with a hint of buttermilk. Literally packed to the brim with cheese, this loaf is surrounded by a crust of parmesan and cheddar. Sprinkled with a dash of cayenne, we promise this bread is not too spicy, but instead will be a showstopper at any event.
email me when orders will be accepted.
Want to be in the know for when bread will be baking? Sign up to receive an email notice so you can be sure to get the loaf (loaves) of your favorite bread!
Thank you for supporting Bluffton Bread Company. Due to the nature of our business and products we sell, all sales are final. Please contact Bluffton Bread Company at blufftonbread@bluffton.edu with any concerns about your order.