Policies & guidelines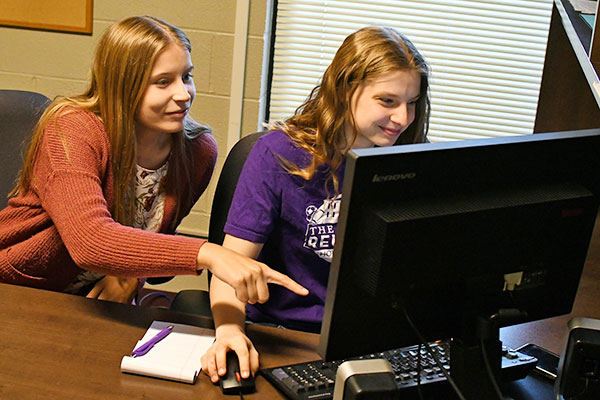 A student may only have one primary position, although additional smaller work agreements may be approved as add-ons.
Maximum pay for the year listed on the employment agreement is estimated and not guaranteed. It is the joint responsibility of the student and the supervisor to maintain a schedule and to ensure the dollar amount of the agreement is not exceeded.

Students may only hold one primary position (positions with a yearly earning potential of $1,670 or greater. A student working six hours per week at $9.30 for 30 weeks would make this amount).

Students may also work an add-on secondary position "Add on" work agreements may not exceed $1,000 in total combined.
(A student working 4 hours per week at $9.30 for 30 weeks would make about this amount). Total combined position work agreements (primary and add-on) may not exceed $3,000.

Total combined position work agreements for all students (primary and add-on) may not exceed $3,000 unless the student is in a supervisory position. Then the combined positions may not exceed $5,000 (or exceed 20 hours per week).

Exception: RAs may have one additional primary position within their major, and if selected, may also serve as a BaS Scholar. Total combined position agreements for RAs may not exceed $5,000.

Since HD positions are expected to work the maximum amount of hours in a week for the maximum pay available for student positions, HDs are not permitted to hold additional Learn and Earn positions.

International students may hold multiple positions but may not exceed $3,000 unless the student is in a supervisory position and the combined positions may not exceed $5,000 (or exceed 20 hours per week). International RAs may have positions NOT within their major, combined position agreements may not exceed $5,000.

Job assignments are normally for the full academic year and students are expected to continue their assignments accordingly. If a student finds it impossible to continue, he/she is to discuss the situation with their supervisor.

Students are responsible for completing their timesheet each month according to business office requirements. Timesheets are accessed through the EX: Timecard Landing link on students MyBluffton account. Instructions are available there as well. "Time in" should be recorded when the shift begins and "time out" recorded when the shift is completed each day.

Students should work only during regular office hours or at times approved by the supervisor. Student workers should not have access to any building after hours via keys or key cards unless prior supervisor approval is granted.

Student workers are strongly encouraged to attend any student training session sponsored by the Learn and Earn program. The training sessions have a different topic and students are paid to attend.

Confidentiality and security are matters of concern to all employers. Employees working in certain departments hold a position of trust and must recognize the responsibility of this confidentiality. Completion of a confidentiality form may be required.

All college employees are to be dressed according to generally accepted standards appropriate to their particular job. If in doubt about your attire, consult your supervisor.

Illness or conflicts: If unforeseen circumstances prevent your being able to work, you are expected to notify your supervisor in advance of your scheduled reporting time. You are responsible for work at all times for the year, except for designated vacation periods* or if your supervisor has approved other arrangements in advance.


Involuntary termination: The campus jobs office will normally accept the recommendation of the supervisor to terminate a student's employment because of unsatisfactory performance.
Ensuring the health and safety of each employee of Bluffton University is our highest workplace priority. Although we have a safety committee, this responsibility cannot be delegated to a single group of individuals. All employees must share this obligation both for themselves and for their fellow workers and all supervisors are responsible to ensure that their department functions in a safe manner. In addition to preventing physical pain and suffering, a safe work environment contributes to the sense of purpose and satisfaction that we desire for all Bluffton employees.

In support of these objectives, Bluffton University has established health and safety policies. The policies are designed to maximize employee protection from job-related injury and illness. Although many of our policies are based on OSHA (Occupational Safety & Health Administration) standards, their purpose is to prevent illness and injury, and not merely to satisfy OSHA. Many of our policies go beyond these standards in order to provide the best work environment possible. All employees are required to follow these policies and are responsible for ensuring all unsafe conditions and operations are immediately corrected or reported to the proper individual.

In the event of an employment-related injury, Bluffton University will endeavor to insure adequate medical care is provided and to return the employee to work as soon as is feasible.
Return to work programs
The stated and applied policy of this university is to establish and maintain a safe and healthy work environment. Bluffton University has set up a transitional return to work program that will provide the opportunity to continue working for those employees who have sustained a work related injury. By means of job restructuring, offering modified work schedules and similar methods, an employee is able to return to the work force and perform duties that are within the acceptable limitations or restrictions placed on them by the treating healthcare provider. This philosophy enables injured employees to safely transition from modified duties to full duty status under the guidance of the treating healthcare professional. (This program is not intended to address permanent limitations.)
Commitment
We will provide training regarding our return to work program to all employees at the time of hire and periodically as necessary.

After injuries are reported, all medical documentation from the treating provider must be provided to the director of human resources. The injured worker's department supervisor will communicate with the injured worker regarding the duty assignment(s). This will be based on documents received from the treating healthcare provider. A commitment agreement will be used to document work conditions and the responsibilities of both the employer and injured worker.

Department supervisors are responsible for facilitating return to work and coordinating specific work activities with employees. Department supervisors are required to support the university's efforts in this regard and also monitor employee work activities whenever possible.

Post-injury
The treating physician may release the employee to return to work with certain restrictions. The doctor should provide a report which indicates the limitations and defines the physical capabilities of the employee.

Communication is essential to provide the employee with the appropriate job accommodations. The employer, the employee and the physician should come to a consensus on what modified duties are selected. The employer, employee and physician will all work together to make sure restrictions are appropriate and that transitional work duties are reasonably safe for the employee.

Once a modified position or grouping of tasks has been selected, a formal job offer, in letter form, will be made to the employee. This demonstrates the university's desire to assist and accommodate the injured employee.

If the injured employee does not accept the offer of modified duty, it could result in interruption or termination of BWC benefits. Employees should sign off on the offer and the treating physician should be provided with a copy.

Program rationale
Recovering from most injuries requires physical activity. Going to work and performing light or modified duty combined with normal daily routines maintains physical conditioning that will promote faster recovery and reduce the potential for permanent damage.

Returning to modified work helps to maintain a sense of work ethic.

Having the opportunity to continue earning their pay provides for a greater sense of economic security.

Working contributes largely to the employee's feelings of self-worth and maintains important social contacts. Giving an injured worker the opportunity to perform modified duties also contributes to their sense of job security.

This program improves our ability to safely return employees to work after a work related injury. In addition, it also has a beneficial impact on our overall workers compensation indemnity and medical costs.
Medical treatment
Bluffton University employees, including student workers, are required to report work related injuries, illnesses or accidents to their supervisor immediately, but no later than end of their scheduled work shift.

Initial medical treatment for work related injuries or illnesses can be obtained at any nearby medical facility, however, we prefer you obtain this treatment at Bluffton Community Hospital. The medical practitioners at this facility have a better understanding of your job duties, the Bureau of Worker's Compensation requirements and our Return to Work Policy. You must notify your treating physician of our Managed Care Organization (MCO) in order to properly process your BWC claim.

Our MCO is: Sheakley Unicomp, Inc.
100 Merchant St. Cincinnati, OH 45246
Phone: 1-888-743-2559

After medical treatment is provided, you are required to report back to work. You must bring with you a medical release, restricted work form or an inability to work report. You will not be allowed to resume work activities without a medical release or restricted work form. Failure to report back to work, medical condition allowing, may subject you to the university s disciplinary policy.

Restricted work will be accommodated following our Return to Work Policy. In the event you are not able to return to work due to a workplace injury or illness, university representatives will remain in contact with you to obtain updates on your medical condition.

As the injured worker you are also required to complete our Incident Report Form as soon as your medical condition allows, but no later than after initial medical treatment has been provided. This form must be signed by your supervisor.
Questions regarding these conditions should be directed to campusjobs@bluffton.edu