Trinidad
*** Broken a:29196 main: trinidad gallery ***
Photos taken by Bluffton University students on the Trinidad and Tobago experience.
Missions in a Caribbean Context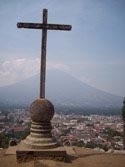 Trinidad and Tobago is a small Caribbean country composed of two islands with a rich history and diverse cultural background.
This experience will explore the natural beauty of this tropical country, visit cultural sites, eat ethnic foods and learn to know the people. Particular attention will be paid to the way missions has been carried out in that context over the centuries and how it is currently done through the auspices of the Virginia Mennonite Mission Board.
This experience will include stays in the home of Trinidadian people and also interaction and involvement with the Mennonite church of Trinidad and Tobago. Students who participate on this experience should be prepared for and feel comfortable with a strong spiritual focus on this experience as we interact with the evangelical church community in Trinidad.
Dates and costs
Dates: May 9-26, 2017
Leader: Randy Keeler
Program Fee: $2,200
10 students
Passport required
Contact
Elaine Suderman, Asst. Director of Cross-cultural Programs
Cross-cultural Program Office
College Hall second floor
sudermane@bluffton.edu
419-358-3360