Holocaust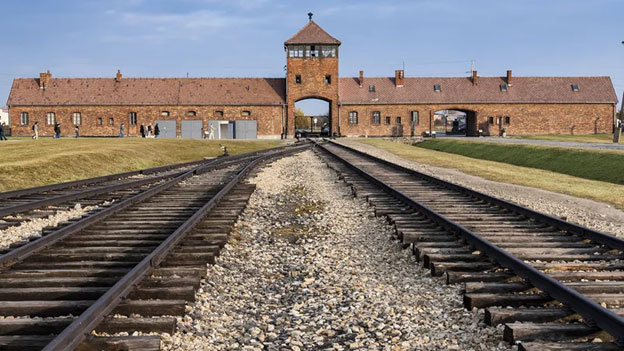 Focus on the Holocaust:
Germany, Poland and the Czech Republic
On this cross-cultural experience, we trace the geography and history of National Socialism and the Holocaust, the German state's effort during World War II (1939-45) to murder Jews along with other alleged enemies of the regime.
Our tour begins and ends in Germany, where we discover the beginning of the Nazi movement as well as the memorialization of the Holocaust. In Munich, we visit the first concentration camp at Dachau, which served as a model for all camps in the Nazi system of terror. We also will visit major sites in downtown Munich and have lunch in a famous beerhall where Hitler and the Nazi movement started in the 1920s.
Most of the Holocaust, however, took place in Poland, and by far the largest camp was Auschwitz-Birkenau near Krakow, where the Germans murdered more than one million people, mostly Jews. Today, Auschwitz is one of the most important museums and memorials to the Holocaust, and we will have a chance to take an extended study tour during which you will learn about the site, examine artifacts and deepen your knowledge of the Holocaust.
In the Madjanek camp, the Germans made little effort to conceal the murders, and today, its gas chambers, crematoria and prisoner barracks serve as another important reminder of the murderous past. During our tour to the remnants of the Warsaw ghetto, you will gain a sense of the struggle of Jews and Poles against their persecutors.
In Krakow, we will visit the former factory of Oskar Schindler, a German businessman, who saved approximately 1,200 Jews during the Holocaust and whose story was the subject of Steven Spielberg's 1993 drama Schindler's List.
Although this trip's main focus is on the Holocaust, we also will have time to explore the rich history, culture, and cuisines of Germany, Poland, and the Czech Republic in guided tours and on our own. In Munich, Berlin, Prague, for instance, we will tour the historic and vibrant downtowns, and you will have the chance to visit castles, museums and markets. Throughout the trip, we stay in comfortable hotels and have access to a tour guide or travel company assistant. In Poland and the Czech Republic we will travel in our own bus.
Dates & program fee
Leaders: Martina & Mike Cucchiara
Dates: May 10-25, 2023
Program Fee: $4,900
Students: 26 max.
Vaccinations: COVID-19 vaccines recommended, but not required at this time
Passport & Visa Required – must be valid at least 6 months after the return date
Contact
Elaine Suderman, Asst. Director of Cross-cultural Programs
sudermane@bluffton.edu
419-358-3360