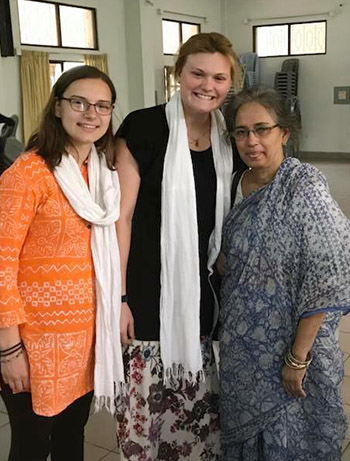 Bangladesh

Beauty and the Broken
Calling all adventurous souls! Explore the lush land of Bangladesh, experience the sights, sounds and smells of the bustling capital Dhaka and all its bazaars. Meet and embrace the faces of fair trade, development and social justice. In joining this experience you will have the opportunity to engage with organizations and businesses who are working to make a difference and bring hope to many oppressed people groups in Bangladesh. The majority of this trip will be spent in Dhaka city itself where you will meet people who work in the fields of education, health research, sustainable fair trade business and social work. You will spend time visiting with and learning from the staff of Mennonite Central Committee (MCC), Prokritee and various other organizations which will be determined by the specific interests of those who go on the trip. You will also learn basic Bangla and have opportunities to immerse yourself in the culture, including a short homestay.
Accommodation for most of the trip will be spent as a group in traditional Bengali hostels and guesthouses. In addition to this, activities will include short trips to Mymensingh and Barisal where you will see the more rural and traditional sides of Bengali culture. In these settings you will explore MCC Job Creation Projects, hear about anti-trafficking initiatives, reflect with the Taize Brothers (a monastic Christian brotherhood), and visit the artisans of Ten Thousand Villages who will show you how they make their products.
We will follow up our adventures with a relaxing three-day boat exploration of the Sundarbans the world's largest mangrove forest and a UNESCO World Heritage Site. Here we will reflect on the trip while enjoying the beauty of the wildlife. We will then finish the trip with a return to Dhaka where we will thank our hosts by joining them for an onostan which is a cultural program of song, dance and poetry.
Dates & Costs
Dates: May 9-30, 2018
Program Fee: $2,700
Experience leaders: Austin Miller & Jodi Cosgrove
Course instructors: Phil & Esther Birkey
10-14 students

Passport and vaccinations (Hepatitis A & Typhoid) required
Contact
Elaine Suderman,
Asst. Director of Cross-cultural Programs
Cross-cultural Program Office
College Hall second floor
sudermane@bluffton.edu
419-358-3360
Included Content