Exploration Internship
10/16/2018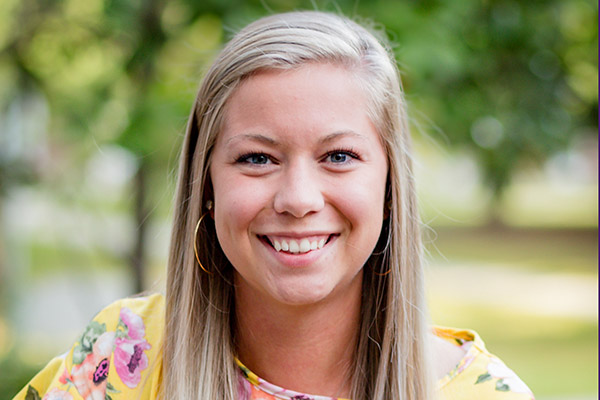 senior explores nutrition through competitive internship
Nutrition and dietetics major Alexa Lammers, a senior from of New Knoxville, Ohio, spent 10 weeks over the summer immersing herself in a highly competitive internship with Purdue University's Department of Nutrition Science. Lammers and three other students from across the country worked in retail, residential and catering environments, exploring a wide range of career options and resume building opportunities. However, she particularly enjoyed shadowing the dieticians for Purdue's athletes.
"If you think of a person as a machine, athletes are like the supreme machine," explained Lammers. "They're concentrated on how their body works, and they want to put the best fuel into their machine, or body, to get the best results."
Lammers, who is currently the president of the Bluffton University Nutrition Association (BUNA), believes it is crucial to gain as much experience as possible outside of the classroom to be prepared for the future.
"I think the summer between your junior and senior year is a really crucial time that you need to be doing something to promote yourself and get extra experience someone else might not have," she explained.
However, the internship helped her realize just how much the professors and classes at Bluffton have prepared her for this internship and beyond. With smaller class sizes and "more personal connections and relationships with professors," Lammers is grateful for the mentoring of Dr. Deb Myers, director of dietetics, and Jeanna Haggard, assistant professor of food and nutrition.
"I'm confident asking them questions, or I can go to their office whenever I need to," she said.
Lammers became familiar with Bluffton at an early age. Her mother, Maria (Bensman) Lammers, graduated from Bluffton in 1991 with an elementary education degree. However, she developed her passion for dietetics from her father, an animal science nutritionist.
"I grew up listening to my dad talk about carbs, proteins and fats," she said. "It worked really well coming to Bluffton and studying dietetics. It made for an easy transition."
Looking toward the future, Lammers plans to earn a master's degree and work with athletes by monitoring their nutritional intake and helping them reach peak performance.
Working as a trainer for the Bluffton football team, she has already seen firsthand the impact of diet on athletes.
"I like the idea of working with people who are trying to achieve the very best that they can," explained Lammers.
-B-
Cara Echols '19, student news writer
"I think the summer between your junior and senior year is a really crucial time that you need to be doing something to promote yourself and get extra experience someone else might not have."