Madeleine Elwell '19
08/31/2016
Food and nutrition major named Butler County Fair Queen
When Madeleine Elwell returned to Bluffton University for her sophomore year of college, she packed the typical items such as clothes, sheets and school supplies. But this year, Elwell also brought two new items—a sash and tiara.
Elwell, a food and nutrition major from Hamilton, Ohio, was named the 2016 Butler County Junior Fair Queen in July.
"The fair queen is a mentor and she represents the fair along with the fair king. They set an example for the younger kids," said Elwell. "We are involved the entire week of the Butler County Fair. We were there every day for 12 hours. We tried to go to as many events as possible, and it was a ton of fun."
The sash and tiara won't just be for show during the school year. Elwell will use them as she attends other county fairs and competes for the honor of Ohio Fairs' Queen.
"Now, we're trying to attend as many other fairs as possible," said Elwell. "I had never been to any other fairs. We went to Greene County, Miami County and Hamilton County. It has been really fun promoting our fair, meeting new people and finding ideas we can bring back to Butler County."
Elwell competed as a 10-year member of 4-H. She's involved in three clubs: 4-H Helpers, Butler County Sharpshooters and Classy Canines. Many people associate junior fair activities with raising livestock. However, Elwell considers herself to be a "city girl" and pursued 4-H projects such as canine obedience and cooking.
As fair queen, though, Elwell quickly learned all about the livestock portion of the fair.
"We spent a lot of time in the beef barn, and I watched the goats, the sheep, the pigs and some of the horse events," said Elwell. "It opened up a whole new world. I got to see so much more, and it made me appreciate all that 4-H has to offer."
Her favorite part of this year's fair was handing out the Horse Showman of Showmen award. "They have these huge ribbons that go around the horse's neck, and I got to put them on," said Elwell. "It was like giving the horse a big hug."
4-H also helped Elwell determine her life's calling. "I've learned so much from my time in 4-H. Part of the reason I decided on my major was from taking nutrition projects in 4-H. It helped me learn that nutrition is something that I'm really interested in and something that I can do for the rest of my life," said Elwell.
"I'm also trying to get some experience in my field, so I applied at a nursing home in Hamilton, and they liked that I had experience cooking through 4-H. Now, I'm a cook at a nursing home partly because of my 4-H experience and that experience will help me when I apply for dietetic internships."
-B-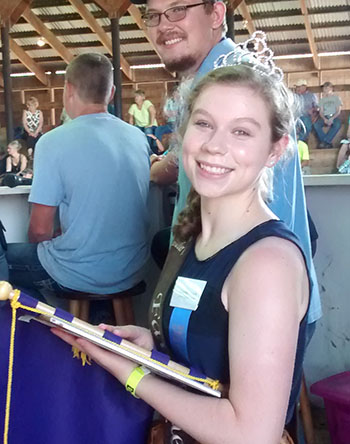 Queen Madeleine Elwell
---
"I've learned so much from my time in 4-H. Part of the reason I decided on my major was from taking nutrition projects in 4-H. It helped me learn that nutrition is something that I'm really interested in and something that I can do for the rest of my life."