SETH REGULA '19
08/14/2018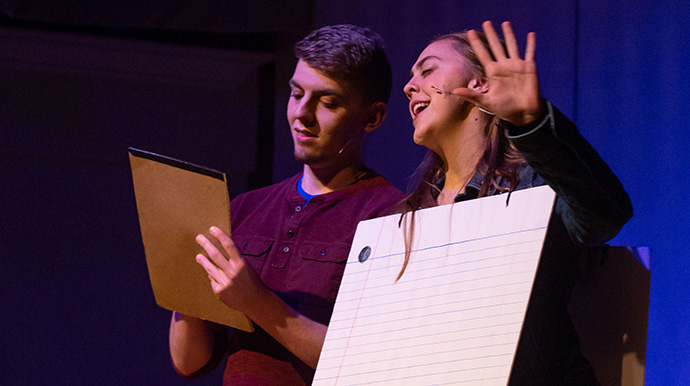 Bluffton senior improves musical skill through faculty support
Seth Regula, a music major from Jackson Center, Ohio, can't believe how much he has progressed as a musician at Bluffton. "It's really shocked me. In high school, I was the best singer and one of the best musicians," said Regula. "So when I came here, I was like, 'Wow, I really don't know what I am doing!'"
Now a senior, Regula says attention from faculty propelled him to succeed.
"I wasn't that great of a student my first two years, but the whole music department faculty have been really supportive," said Regula. "I really credit Crystal Sellers-Battle with getting my voice to the level it needs to be, and Stephanie Titus has been a great theory teacher and a great piano teacher."
On top of faculty support, Regula has dedicated himself to improving his skills through clubs and organizations. He sings in University Chorale, plays trombone in Concert Band, and plays bass guitar in both Jazz Band and Pep Band. Last spring, he also had a leading role in the May Day Musical. While Regula doesn't plan to teach music after graduation, he is a member of Bluffton's chapter of the Ohio Collegiate Music Education Association.
Through OCMEA he's attended conferences where he's "gotten to make connections with a lot of people in bigger music businesses and corporations."
For Regula, making connections on the business side of the industry is key to his future. Music majors at Bluffton choose to pursue one of four concentration areas. Regula chose business and would like to eventually become a small business owner.
Music with a Business concentration
"Coming in, I knew I didn't want to teach. I like economics and marketing, but I also really like music. I like that I have core music classes, but that I still get the fundamentals of business to along with it."
As part of the business concentration, Regula completed an internship with Instrument Care Center, a full-service music store in Findlay.
"I did some accounting, marketing and management type stuff, but when I wasn't learning about the business side, I was learning about repairs and that part of the business," explained Regula.
In June, Regula returned to Instrument Care Center to work in instrument repair.
"I take dents out, clean the instruments, polish slides, make them all shiny so they look nice for marching season," said Regula. "This summer, I've gotten to connect with high school musicians and band directors in the area. That's been a really good experience—to work with people."
Regula's beginnings at Bluffton were a struggle. "On my first day of piano class I didn't even know where a C was."
But now he's excited to be a senior and prepare for graduation. "I'm ready to use the skills I've learned and to get out into the real world."
-B-