Bailey Baker '19
06/20/2018
Baker takes full advantage of Bluffton's education major
At the end of May, Bailey Baker, an early-childhood education and intervention specialist double major from Toledo, Ohio, witnessed the "cutest thing" she had ever seen.
"It was adorable. On the last day of school, I went to preschool graduation," said Baker. "They did four songs—singing and dancing in their graduation caps."
Baker had bonded with the young graduates over the previous month as she took part in a practicum experience to earn her preschool special needs endorsement. She observed the interactions between the students in the classroom of Cary Fell Wenning, participated in lesson planning, and helped develop an Individualized Education Program (IEP). Fell Wenning is currently earning her Master of Art in Education at Bluffton.
"This experience definitely confirmed that I am in the right field," said Baker. "I loved working with the kids."
Baker observed 27 students in total, split over morning and afternoon sessions. About 10 students had an IEP, a plan developed by teachers, parents and related services personnel to improve educational outcomes for children with disabilities.
Some of the students had speech and language issues or hearing impairments. Baker used lessons taught in Dr. Gayle Trollinger's Methods and Materials for Diverse Learners class to better work with these students.
"They're kids but they're people, too," explained Baker. "If I get frustrated, they are just going to shut down. So I made sure I was being patient and used different words or showed them what I wanted."
She also used techniques from Dr. Amy Mullins' phonics class and Tim Byers' special education classes. Baker relied on previous experience in the classroom, as well. During her first semester at Bluffton, Baker was placed in a kindergarten classroom at Ada Elementary to get early hands-on experience. Since then, she's served as a reading tutor at Bluffton Elementary and completed two internships with incarcerated teens at the Allen County Juvenile Detention Center.
"They've all been very rewarding experiences," said Baker. "I've learned something new from each one."
Now, Baker is looking forward to her student teaching placement. She will participate in the Chicago Center for Urban Life and Culture. Through the program, education majors work in a Chicago Public School classroom for a semester with supervision provided by the CCULC. Participants attend weekly seminars and have the chance to process their experience with peers and supervisors to learn more about the challenges and promises of urban education. Baker will teach in a second grade classroom at A.N. Pritzker School during the spring semester.
"I'm beyond thrilled. I'm from Toledo and going from a city to small-town Bluffton was a culture change," said Baker. "It's been rewarding to see small schools in action, but it's different than the schools I went to, and it's going to be even more different going to Chicago and working in one of the largest public schools in the country. This experience will give me the chance to have a lot of different opportunities with students of differing needs and differing backgrounds."
Baker became interested in Bluffton after realizing she enjoyed the atmosphere of a small campus while completing dual enrollment classes in high school, but she chose Bluffton because of the people.
"Everyone was so willing to take time to talk with me—the students, the faculty and the staff," said Baker. "I had heard the education program was really good. Now, I can attest to that. I am very happy I chose Bluffton."
-B-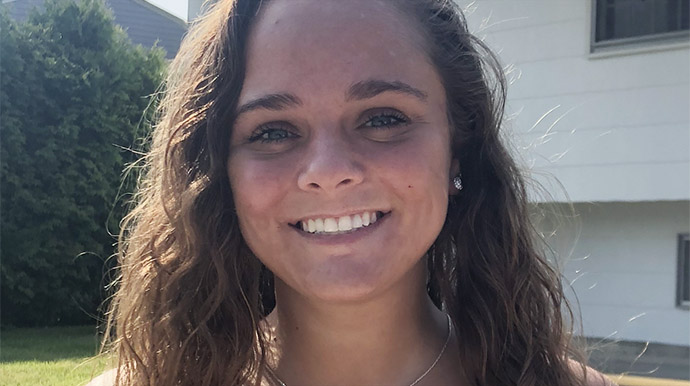 "This experience definitely confirmed that I am in the right field. I loved working with the kids."